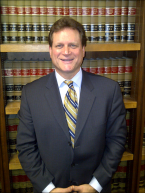 Georgia Fondren filed suit in the Cook County Circuit Court on Oct. 21 against Aldi's Inc., A and R Security Services Inc. and Michael E. Smith.

According to Fondren, she was visiting an Aldi store at 9001 S. Halsted St. in Chicago when she was shot by an armed robber. Fondren says that on Nov. 10, 2011, she had finished paying for and was bagging her groceries when Smith and another armed robber entered the store.

Fondren alleges the security personnel at Aldi began to battle with the armed robbers when she was shot. Fondren claims the security personnel responded to the robbers threats in an unsafe manner.

She is suing Aldi for failing to adequately train its security personnel to respond to armed robbers. Fondren is suing Smith, accusing him of firing the bullet which struck her.

Fondren is seeking more than $50,000 in damages. She is being represented by Chicago attorney David M. Sternberg.

Circuit Court of Cook County Case No. 2013L011633.

This is a report on a civil lawsuit filed in the Circuit Court of Cook County. The details in this report come from an original complaint filed by a plaintiff. Please note, a complaint represents an accusation by a private individual, not the government. It is not an indication of guilt, and it only represents one side of the story.