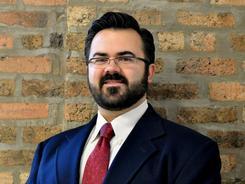 A legal dispute between a Chicago-based company specializing in the development of mobile digital marketing and analytics systems and its business partners ended almost as quickly as it began in Chicago federal court.
The company, Crowd Source Development Inc., and its former partners at Florida-based Entrepidus settled the legal dispute in late January 2014, just over a week after CSD accused Entrepidus and three men affiliated with the company - Florida residents Marcelo Castro, Maurizio Acquavella and Fernando Valentiner - of surreptitiously cannibalizing elements of its proprietary program to complete the development of their own competing program, and then using that system to cut exclusive deals with large corporate clients.
A federal judge signed off on the settlement deal in February 2014, and, at the request of both parties, dismissed the case with prejudice, meaning the matter cannot be reintroduced.
Castro is a U.S. citizen, while Acquavella and Valentiner are believed to be citizens of Venezuela, according to the complaint, which had been filed Jan. 14, 2014.
The individual defendants, through Entrepidus, were investors in CSD, as Entrepidus held 42 percent of outstanding shares and 50 percent of the voting shares in the Chicago software development firm, the complaint said.
Crowd Source Development is being represented in the action by attorney Arik D. Hetue of Keefe, Campbell, Biery & Associates in Chicago.
The complaint included seven counts against Entrepidus and the three individual defendants, alleging violations of the federal Computer Fraud and Abuse Act and the Illinois Trade Secrets Act, as well as conspiracy to commit fraud, misrepresent their relationships to the business and misappropriate Crowd Source Development's guarded proprietary information.
The suit focused on the development of a suite of mobile marketing and real-time marketing data tracking programs, called Insight, a product that CSD asserted it "has invested thousands of man hours and hundreds of thousands of dollars researching and developing."
Prior to forming CSD in 2011, Jefferson Dance, a Canadian citizen and the company's president and founder, discussed forming a partnership with Valentiner and Acquavella, who, the suit alleged, "held themselves out to be principals, partners and each a one-third owner" of Entrepidus, with Castro.
Out of that discussion, Dance partnered with Entrepidus "to develop the enterprise level mobile marketing solution he had designed." In exchange for its work, Entrepidus would receive the 50 percent stake in the plaintiff company.
At the same time the defendants agreed to work with Dance and Crowd Source Development, the complaint stated that Entrepidus had been working on a similar software package it called ISSY, which was more than half finished at the time Dance and Entrepidus launched their partnership.
However, the suit alleged that, prior to partnering on the Insight project, no one affiliated with Entrepidus disclosed that information to Dance or Crowd Source Development.
In March 2012, Dance and Crowd Source Development became aware of the existence of ISSY. When confronted, Entrepidus' representatives assured Dance that the product was data collection and management tool being marketed to small and medium-sized businesses, and would not compete with Insight.
Dance then asked the three individual defendants at Entrepidus to sign off on a written agreement specifying Entrepidus' assertions regarding ISSY and Insight.
Entrepidus, however, never agreed to such a document.
A few weeks later, the complaint stated, the plaintiff learned Castro was the sole owner of Entrepidus, contrary to prior assurances given by Castro, Valentiner and Acquavella.
The suit alleged that CSD then learned that Entrepidus had used Insight to complete its work on ISSY.
In 2013, the company contended it learned Entrepidus had reached agreements to sell services under either Insight or ISSY with large corporate clients, including Pepsico and FedEx Mexico, without any compensation provided to it.
And in the later months of last year, Crowd Source Development sought to sever its ties to Entrepidus, including a buyout of its stake, the complaint said.
But, CSD alleged that Entrepidus instead locked away the source code for Insight, locked it out of the servers containing the data, and refused to comply with "numerous requests" to allow it to access the information to migrate the source code to a new development team.
In its suit, the plaintiff company asked the court to order Entrepidus to unlock the source code and other proprietary information, stop selling and marketing the systems, revoke Entrepidus' ownership stake in Crowd Source Development, award it the rights to Insight and ISSY and award compensatory damages, among other items.