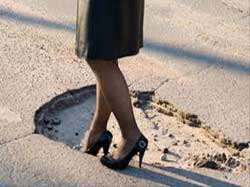 A woman is suing the city, claiming its failure to maintain its streets led her to trip and fall over a pothole.

Jacqueline McClinton Oliver filed a lawsuit July 14 in the Cook County Circuit Court against the City of Chicago, alleging negligence.

According to the complaint, Oliver was exiting her parked vehicle on Green Street in Chicago on Aug. 31, when she tripped on a pothole and fell. The city is accused of negligence and failing to maintain the street.

Oliver is seeking more than $50,000 in damages. She is being represented in the case by attorney Fred I. Benjamin of Benjamin and Shapiro Ltd. in Chicago.

Cook County Circuit Court Case No. 2014L007350.

This is a report on a civil lawsuit filed in the Cook County Circuit Court. The details in this report come from an original complaint filed by a plaintiff. Please note, a complaint represents an accusation by a private individual, not the government. It is not an indication of guilt, and it only represents one side of the story.