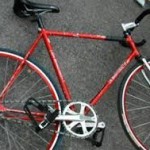 A bicyclist is suing the city over claims a city-owned street sweeper struck him.

Mark Anthony Marshall filed suit Jan. 16 in Cook County Circuit Court against the City of Chicago, alleging negligence.

According to the complaint, Marshall was riding his bicycle south on State Street, near its intersection with Delaware Street, on April 30, 2014, when a street sweeper owned by the city of Chicago hit him, causing him to fall off his bike and to the ground.

Marshall accuses the operator of the city's street sweeper of driving at an unsafe speed, making an improper U-turn and failing to warn him. He is represented by attorneys at the Shea Law Group of Chicago.

Cook County Circuit Court case number: 2015L000501.

This is a report on a civil lawsuit filed in Cook County Circuit Court. The details in this report come from an original complaint filed by a plaintiff. Please note, a complaint represents an accusation by a private individual, not the government. It is not an indication of guilt and represents only one side of the story.