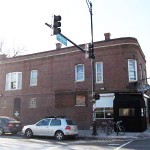 A Chicago man has sued a Humboldt Park bar, alleging the bar's security roughed him up.

Saul Villarruel, of Chicago, filed a lawsuit June 1 in Cook County Circuit Court against Westside Rail Inc., doing business as Continental Lounge, regarding a March altercation.

According to the complaint, on March 6, Villarruel was a customer on the defendant's premises, 2801 W. Chicago Ave. in Chicago, when security personnel at the establishment allegedly placed Villarruel in a purported full Nelson grip to escort him outside. The suit states the employees rushed the plaintiff, punched and kicked him, that he did not fight back, and he sustained injuries, including a broken left leg.

The suits cites the bar with negligence, stating owners knew or should have known its staff had a tendency toward violence; that it failed to remove aggressive personnel when they allegedly became combative; neglected to provide a safe area for Villarruel or to staff the premises with competent personnel; and failed to intervene during the attack. The suit alleges negligent hiring and retention.

The plaintiff cites serious personal injury and medical expenses.

Villarruel seeks damages of more than $50,000, plus attorney fees and costs. He is represented by attorney David Kadzai of Kadzai Law Group in Chicago.

Cook County Circuit Court Case No.: 15-L-5488.