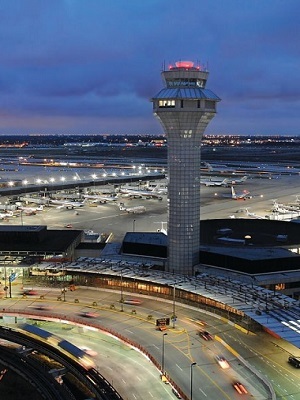 UPDATE: Cook County court records indicate this case was voluntarily dismissed by the plaintiffs without prejudice on Feb. 2, 2016. Further, records indicate the dismissal came before a judge could rule on a motion to dismiss introduced by the defendant on Jan. 14, 2016, asserting that the terms of ownership of the business interest at the heart of this case do not require the defendant to include plaintiffs in negotiations with the city of Chicago concerning the O'Hare Perishable Center.
Two businessmen who claim they are the originators of the idea to build a facility to handle fresh flowers and other perishable imports at O'Hare International Airport are suing an investor they claim joined their business venture, only to take it over and cut them out.
Shlomo Danieli, a businessman who runs an eponymous floral importing business, had partnered with James Richards, of Floral Express, which specializes in recovery and distribution of global fresh-cut flowers and related products in the Chicago and Milwaukee areas. Together, in September 2008, they met with the Chicagoland Chamber of Commerce to discuss O'Hare's lack of sufficient infrastructure for handling perishable imports. That meeting led the Chicago Department of Aviation to negotiate a lease to establish such a facility at the airport.
In 2012, Danieli and Richards came to know investor Samuel Sax, who agreed to personally finance the perishable distribution center, which would come to be known as Chicago Perishable Center. Now the investor and the distribution center business stand as a defendant against Danieli and Richards in a complaint field earlier this month in Cook County Circuit Court. The plaintiffs filed their complaint individually and on behalf of the CPC.
Richards formally organized Midwest Perishable Center on Jan. 26, 2013. At the time, the agreement stated he and Danieli would jointly hold a 49 percent membership interest and act as operators, while Sax would finance the business and own 51 percent. The proposal to the CDA was to lease 27,000 square feet from the city and undertake a $1.8 million construction project.
The CDA approved the plan on Feb. 14, 2013. Chicago Finance Committee approval was contingent on a lease agreement. During lease negotiations, Sax recommended the name change to Chicago Perishable Center, and in May 2013, required Danieli and Richards transfer 10 percent of their ownership stake to another investor. They agreed, provided they would retain operating rights.
On May 18, 2013, Sax - allegedly without consulting Danieli and Richards, according to their complaint - organized Chicago Perishable Center, nominating only himself or a solely-owned entity as manager. Meanwhile, the plaintiffs completed the lease agreement, and the Chicago City Council approved an ordinance naming CPC the operator of the O'Hare facility. The city approved CPC's quote on June 26, 2013.
At the end of 2013, however, the complaint alleges Sax demanded CPC negotiate a new lease, now to include a requirement for a $7.9 million buildout. The proposed agreement would require Sax would be repaid first from the construction and the city would guarantee his return.
"Since 2014," the complaint stated, "Sax has unilaterally engaged the city in new negotiations of the lease without consulting plaintiffs and has frozen plaintiffs out of the operations of CPC."
For two years, they say, Danieli and Richards demanded Sax adhere to the original business plan, but he ignored those demands and has continued "to assert that plaintiffs are not members of CPC and are not entitled to participate in CPC."
The plaintiffs seek a declaratory judgment naming them members of CPC and declaring Sax lacks the authority to execute agreements without their authorization. They filed a complaint of breach of fiduciary duty against Sax, asking the court to impose a constructive trust on CPC assets and membership interests in their favor, to force Sax to disgorge any profits earned from operating their center without their involvement, and to award them profits they lost due to Sax's actions, as well as legal fees.
The plaintiffs are represented by attorneys Marty Schwartz and Tyler Manic, of Schain, Banks, Kenny & Schwartz, of Chicago.