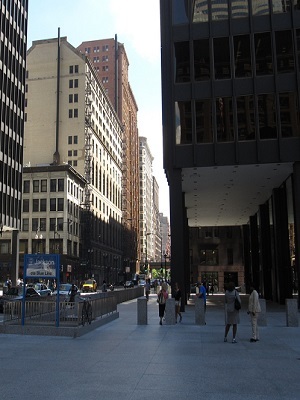 A Chicago federal judge has put an end to a California man's $6 million lawsuit against a lawyer the man alleges helped a former business associate in India remotely freeze him out of the business' accounts.
U.S. District Judge Marvin E. Aspen on Nov. 23 granted attorney Rishi Vohra's motion to dismiss the complaint, which initially had been brought in Cook County Circuit Court in May against Vohra by plaintiff James Zachman, of La Quinta, Calif. Vohra has addresses in Chicago and Hinsdale.
Vohra removed the case to federal court, noting he and Zachman live in different states and saying the damages Zachman seeks exceed the circuit court's jurisdictional amount.
According to Zachman's complaint, Vohra provided "substantial assistance" to Sangeeta Chhabra, Zachman's partner in a limited liability corporation called Real Time Data Services, helping Chhabra allegedly strip Zachman of his half of the business' profits and his ownership stake in the 10-year-old data firm.
In the spring of 2012, Zachman said, shortly after the annual gross revenues cleared $1 million, he and Chhabra began disputing how the business was being run. In May that year, Zachman said Chhabra locked him out of the business' servers, email accounts and financial data. Just a few days later, Zachman alleged she "sent a libelous letter to all 700 clients accusing (Zachman) of financial irregularities and misappropriation."
Zachman's complaint accused Vohra of tortious interference with contractual relations, aiding and abetting fraud and civil conspiracy sounding in fraud and requested an accounting compelling Vohra to determine how much Zachman is owed.
With respect to the tortious interference claim, while Aspen agreed Vohra likely made Chhabra's actions against Zachman easier — specifically, in helping Chhabra open a business-related Citibank account without Zachman's knowledge — the judge said Zachman did not argue Vohra "intentionally and unjustifiably induced Chhabra's breach of the agreement."
Vohra further argued Zachman "failed to sufficiently plead any underlying tort or wrongful conduct" in regards to the fraud and conspiracy claims. Aspen cited federal civil procedure rules requiring plaintiffs who assert fraud claims to 'state with particularity the circumstances constituting fraud.' " Zachman's complaint, though, did not allege Vohra "relied on or acted on" the assertions made in the complaint.
Aspen said Zachman's request for compulsory accounting also failed to show he had no other adequate remedy at law: "The assertions made in the complaint suggest that a breach of contract claim against Chhabra would provide an adequate legal remedy for (Zachman) and (Zachman) has not specifically alleged otherwise. Just because (Zachman) has no other actionable claims against (Vohra) at this time does not mean that he lacks adequate legal remedies at law for Chhabra's breach of the agreement."
In his initial complaint, Zachman said he brought the legal action against Vohra because the lawyer essentially controls Zachman's assets. He said, because Chhabra lives in India, she has been able to avoid his repeated attempts to file complaints naming her as a defendant.
Aspen acknowledged this dynamic, but found the circumstances were not sufficient to subject Vohra to Zachman's legal claims: "We understand that (Zachman) seeks a remedy for third party Chhabra's alleged wrongdoing, but in this action against (Vohra), we will not order an accounting."
Aspen dismissed Zachman's claims without prejudice.
Vohra was represented by Sara E. Cook and Kristin D. Tauras, of McKenna Storer, Woodstock.
Zachman represented himself.