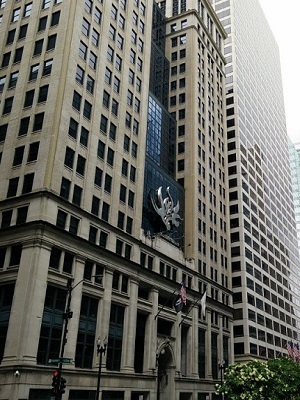 Condominium owners who wish to challenge the legality of fees charged by their properties' owners associations don't get two chances in court to do so, an Illinois state appellate panel has found, upholding a Cook County judge's dismissal of an evicted condo owner's suit over association assessment late fees, saying the owner should have raised the issue when he was evicted three years before.
The appellate order was filed Dec. 17 under Supreme Court Rule 23, which means the order may not be cited as precedent, except in the limited circumstances allowed by the rule.
In 2011, The Private Residences at Ontario Place Condominium Association took action to evict John Quirke from his unit at 10 E. Ontario St., in River North, saying Quirke failed to pay thousands of dollars in monthly assessments and resulting late fees. Quirke squared his debt to the association by June 2013 and sold the unit that August.
During the 52 months Quirke owned the unit, he missed or was late with assessment payments 34 times, according to the association. Each late fee was $150. Quirke claimed he stopped making payments after a certain point, because he did not believe the late fees were legitimate.
In November 2013 in Cook County Circuit Court, Quirke turned around and lodged a putative class-action suit against the condominium association and the building's manager, Sudler Property Management, arguing the late fees were unreasonable and invalid. The building had 467 units.
Defendants moved to dismiss the case. On May 22, 2014, Cook County Judge Neil Cohen agreed to dismiss, finding Quirke's suit was short on facts. Cohen additionally invoked the concept of res judicata, which bars suits over issues already judged in earlier suits between the same parties.
Based on res judicata, Cohen ruled it was too late for Quirke to dispute the late fees, as his chance to do so was during the eviction proceedings against him three years earlier.
Quirke then appealed to the Illinois First District Appellate Court in summer 2014. The 81-year-old Quirke died in spring 2015, shortly before the court heard oral arguments. Quirke's daughter, as representative of the estate, was allowed to replace him as plaintiff-appellant, but she found no more success in court than her father.
Appellate Justice Margaret McBride delivered the court order affirming the dismissal, with justices Jesse Reyes and Robert E. Gordon concurring.
First off, McBride noted at no time in the appeal did Quirke address Cohen's findings concerning Quirke's cases factual deficiencies. McBride found this reason alone sufficient to affirm the dismissal.
"In effect, this is a concession that the dismissal on that ground was proper," McBride observed. "When an appellant fails to challenge a finding, he or she waives our review of that finding."
McBride, however, also said Quirke's appeal was doomed under res judicata, saying the parties and causes of action are identical and a judgment on the issue was rendered. Quirke acknowledged the parties were the same and a judgment was laid down, but denied the issues were the same.
Quirke contended the 2011 eviction suit involved unpaid assessments and possession of his unit, but his 2013 suit was about late fees and did not concern possession, because by that time, he had sold the unit. Quirke maintained he "did not get his day in court" regarding the late fees.
McBride shot down this argument by looking at the record in the case.
"There is no question that a single set of operative facts was the basis for the two lawsuits and that Quirke's complaint asked the court to determine that the factual and legal basis for the judgment in the first action was improper or unlawful," McBride asserted.
Quirke did win a moot point. Defendants argued Quirke's appeal was untimely, because he initiated it more than 30 days after his case was tossed. Illinois Supreme Court rules of procedure require an appeal be started within 30 days.
Justice McBride found the 30-day countdown began later than defendants contended. The suit was dismissed May 22, 2014. Quirke filed a motion for leave to file an amended complaint on June 20, which was rejected the following July 1. On July 29, Quirke filed notice he was going to appeal. In McBride's view, the 30 days began July 1, as that was the day the suit was laid to rest.
Quirke was represented by Krislov Associates, of Chicago. The Private Residences at Ontario Place Condominium Association and Sudler Property Management were defended by Wilson, Elser, Moskowitz, Edelman & Dicker, which has offices throughout the country, including Chicago.