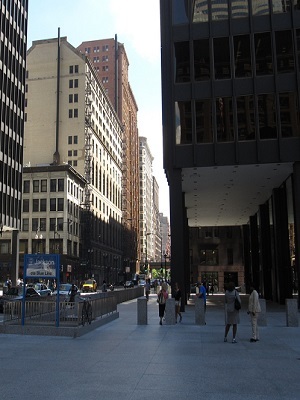 A federal court has denied a man's attempt to sue his former employer, a Schaumburg-based operator of several for-profit career education colleges, over its termination of a bonus incentive program he says cost him thousands.
U.S. Magistrate Judge Geraldine Soat Brown granted summary judgment in December to defendant Career Education Corporation, or CEC. The company, a for-profit education provider operating Le Cordon Bleu College of Culinary Arts, American Intercontinental University and Colorado Technical University, among others, had been sued by former admissions representative Riley J. Wilson, who claimed he lost about $9,000 in bonus pay when CEC ended its incentive program for admissions reps.
Wilson filed the class action suit claiming breach of contract and unjust enrichment. His complaint was initially dismissed, but remanded on appeal. While it is undisputed the company had to end the bonus program under new Department of Education regulations, Wilson claimed CEC ended the program earlier than it had to in order to pocket about $5 million in bonuses it owed admissions reps for students enrolled the previous quarter.
Under the program, admissions officers received a bonus for each student enrolled over their minimum threshold in a specified time period, provided the student completed at least one year of their academic program or completed the program, if it was less than a year and the admissions officer was still a CEC employee when all the conditions were met.
In June 2010, the U.S. Department of Education proposed a rule disallowing such incentives to admissions officers. CEC CEO Gary E. McCullough sent a memo to employees warning them about the proposed change and advising them CEC was determining how it would react. According to court documents, increased government and media scrutiny of the for-profit education sector occurring at the same time added to CEC executives' concern about running afoul of federal rules.
The Department of Education eventually disallowed the incentives effective July 1, 2011. According to court documents, some CEC executives were in favor of continuing the incentive program through June 30, 2011. Others, urging potential cost savings, wanted to end it Dec. 31, 2010. Citing these references to cost savings, Wilson claimed that by ending the program before the June 30 deadline, the company planned to enrich itself by keeping the bonuses it would have paid out between March and June.
In granting CEC's motion for summary judgment, Brown noted that in his pleading, Wilson conceded the company did not, in fact, enjoy any enrichment by ending the program, because it gave all admissions representatives a 3 percent raise in base pay and paid each 75 percent of their average bonus amount from the previous several years. While Wilson, who had his best year ever in 2010, suffered a loss, other admissions representatives were actually paid more at the plan's termination than they would have made in bonuses, according to court documents.
Court documents noted CEC landed on the Feb. 28 program termination date because other employees in the company were on a schedule that paid out bonuses on March 1 of each year and because extending the program to June 30 would not leave enough time for the company to process and pay out the bonuses before the federal deadline.
"CEC had a contract right to terminate the Plan at any time, but had an implied obligation not to do so in bad faith for the purpose of keeping for itself the bonuses for students who were 'in the pipeline,'" Brown wrote in her opinion. "No reasonable jury could conclude that CEC chose February 28 as the date to end the Plan bonuses for the purpose of keeping the admissions representatives' bonuses for itself. Accordingly, CEC's motion for summary judgment is granted."
CEC was represented in the action by attorneys with the firms of Morgan Lewis & Bockius, of Chicago, and Seyfarth Shaw, of Chicago.
Wilson was represented by the firms of Willenson Law, of Chicago; Crowder Teske, of Minneapolis; Schaefer Halleen, of Minneapolis; and Teske Micko Katz Kitzer & Rochel, of Minneapolis.