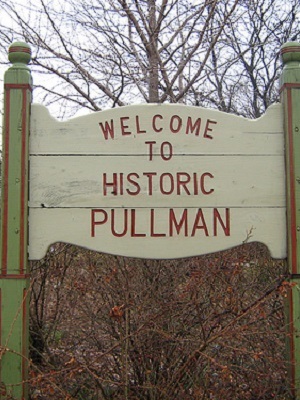 A dispute over who should get to develop a piece of land just off the Bishop Ford Freeway (Interstate 94) on Chicago's South Side appears ticketed for state appellate court, after a Cook County judge rejected a lawsuit brought by a veteran of the Chicago real estate development sector against an organization which bills itself as dedicated to encouraging economic development in Chicago's low income areas.
Late in December, Wendy Berger Shapiro, principal of Chicago-based industrial development company WBS Equities, acting through South Creek 12 LLC, a corporate entity she manages, filed notice in Cook County Circuit Court of her intent to appeal a Cook County judge's decision to reject her legal action against the Chicago Neighborhoods Initiative, and find in their favor in the quarrel over a parcel in the 180-acre Pullman Park development, in the 1000 block of E. 111th Street in the city's Pullman neighborhood.
According to its website, CNI was founded in 2010 "to strengthen Chicago area low- to moderate-income communities by collaborating with neighborhood stakeholders on community development efforts." According to court documents, CNI has already coordinated more than $130 million of investment in the Pullman Park development. CNI, which is led by a board including a collection of Chicago ministers, lawyers and finance professionals, is based at 1000 E. 111th Street, Chicago.
According to a biography published on WBS' website, Shapiro has worked in a variety of leadership roles in Chicago real estate and development for more than a quarter century.
According to Shapiro's lawsuit, filed in October, CNI had reneged on its deal to sell South Creek 12 the 111th Street parcel to allow Shapiro's groups to build "industrial buildings for food manufacturers or distributors," a sector in which WBS purportedly specializes. Shapiro's entities would then "either lease or resell the property" to other businesses interested in doing business within the new buildings.
According to her lawsuit, she had reached a deal with a purported tenant, identified as PIG Investments LLC, a "multi-million dollar corporation that owns food, beverage and related companies," to lease space in a planned new 150,000-square-foot food distribution building, with a parking lot for 200 cars.
The complaint did not specify the financial terms of either the land buy or the lease.
Shapiro alleged South Creek 12 had notified CNI of the lease deal in August 2015.
In a counterclaim filed against South Creek 12, CNI said it received a "purported user agreement" on Aug. 28, 2015, about four days before triggering a deadline by which South Creek was to identify an "end user" or risk termination of the purchase agreement.
However, CNI said the "user notice" was "defective," asserting PIG Investments was identified in the notice as "an entity 'to be formed'" and rental rates were not clearly stipulated in the proposed agreement.
Court documents said the user notice had been preceded by a request from South Creek to extend the deadline another 90 days beyond Sept. 1, which would have marked the second time the deadline had been extended. CNI declined to extend the deadline.
South Creek contended CNI had also sought to use the deadline extension request as an opportunity to renegotiate terms of the purchase agreement.
CNI said it notified South Creek of its intent to terminate the purchase agreement on Sept. 17, yet alleged WBS issued a new advertisement for the property, which makes no mention of PIG Investments or any other prospective tenants.
CNI said it has also received interest in the property from other prospective buyers.
On Dec. 22, Cook County Circuit Judge Kathleen G. Kennedy found in favor of CNI, and issued an order Dec. 28 terminating the case.
South Creek 12 followed with its appeal on Dec. 30, asking the appellate court to reverse the judge's orders in the case, enter judgment for South Creek and remand the case for further proceedings.
South Creek 12 is represented in the action by attorneys with the firm of Greenberg Traurig, of Chicago.
CNI was represented by the firm of DLA Piper, of Chicago.