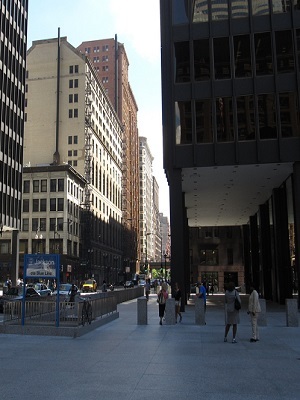 A Chicago federal judge has stripped the class action status from a lawsuit that alleged a Caterpillar contractor rooked Joliet workers out of overtime pay, with the judge describing the claims of 94 plaintiffs as too individualized to pursue as a whole.
Judge Charles P. Kocoras issued the ruling Jan. 8 in U.S. District Court for Northern Illinois, saying, the collective claim falters for "lack of a common policy or plan that violated the law" and for lack of an "identifiable factual nexus that binds the plaintiffs together as victims of a particular violation of overtime laws."
In June 2013, Michelle Creal, Kasandra Murphy and Felicia Wright filed a putative class action suit against Group O, claiming Group O violated the U.S. Fair Labor Standards Act, the Illinois Minimum Wage Law and the Illinois Wage Payment and Collection Act. Creal lives in Springfield, Murphy in Crest Hill and Wright in Joliet, according to the suit.
Group O is based in Milan, Ill., near the Quad Cities in Rock Island County, and provides staffing and logistical services to industrial concerns. Between 2010 and 2013, Group O provided such services to the Caterpillar plant in Joliet, with its workers employed in such jobs as clerk, forklift operator, packer and storeroom manager, court documents said. The plaintiffs in this case worked for Group O at the Joliet plant.
Plaintiffs alleged Group O had employees work before and after their shifts, as well as during meal breaks, but without properly paying them. To short the employees, Group O allegedly programmed its electronic timekeeping and payroll system to round off employee clock-ins and clock-outs to scheduled start- and end-of-shift times – when the clock-ins and clock-outs were within 15 minutes of the scheduled start- and end-of-shift times. As a result, employees were allegedly not paid for these periods of 15 minutes and less.
The complaint was conditionally certified as a class action lawsuit, with 91 more plaintiffs subsequently joining the case. However, Group O filed a motion to yank the class action status, which Kocoras found compelling.
"There is no efficiency gained by trying all the factual questions and defenses in one trial," Kocoras summed up, quoting the U.S. District Court for Eastern Wisconsin ruling in Adair v. Wisconsin Bell.
Kocoras ascertained, contrary to the plaintiffs' allegations, that Group O did not direct employees to work outside their shifts without pay. Further, when employees did work before or past their shifts, they would almost always receive overtime pay, whether or not the overtime had been approved beforehand. These procedures were spelled out in Group O's written policy, Kocoras noted.
Kocoras was persuaded by Group O's argument that some employees, who worked pre- and post-shift without compensation, did so depending upon a host of factors, including their positions, responsibilities, shifts, work stations, distances to work stations and supervisors. Further contributing to the mix, was that some workers were tied to stations, while others roamed the factory. As a consequence, each plaintiff would require a separate determination of whether tasks they performed were deserving of overtime pay.
In addition, determinations would have to be made, on a case-by-case basis, as to whether workers spent the time in question going to and from their principal workstation or, beyond this, whether the time involved was simply too trifling an amount to merit consideration. In this connection, Kocoras pointed out Group O could cite the U.S. District for Southern Illinois ruling in Marshall v. Amsted Rail, in which the court found employers are not obliged to pay in either situation.
As with the pre- and post-shift claims, Kocoras also decided claims for unpaid meal breaks were too differentiated to warrant class action.
A status hearing is set for Feb. 11.
Plaintiffs are represented by Asonye & Associates and Prinz Law Firm. Group O is defended by Pappas, Davidson, O'Connor & Fildes. All the firms are of Chicago.
The three original plaintiffs also brought a 2012 action against Group O in Will County Circuit Court that remains pending. Original plaintiff Murphy filed another federal suit against Group O in 2011 in Chicago that was dismissed by stipulation in 2014, court records show.