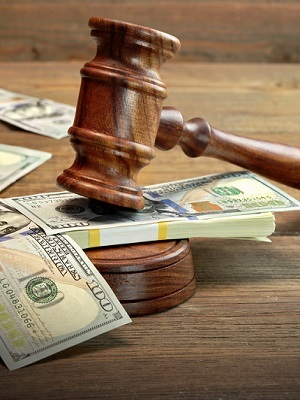 After saying he waited too long to get money owed him from the settlement of a personal injury lawsuit, a Cook County man is seeking legal retribution, bringing a class action on behalf of other potential plaintiffs like him against the company he has blamed for the delay in paying him, as well as other companies he said may have done the same thing to others.
Ward Kifarkis filed his class action complaint Jan. 27 against Gallagher Bassett Services (GBS), of Itasca, a third-party claims processor for companies settling personal injury lawsuits. According to the complaint, GBS had represented Aldi as its claim administrator in the settlement of a third-party liability lawsuit Kifarkis had brought against the supermarket chain stemming from an injury Kifarkis allegedly suffered in June 2014.
According to the lawsuit, in late October 2015, attorney Larry Drury, acting as Kifarkis' counsel, sent GBS a copy of the negotiated settlement agreement. He followed that with a demand for payment on Oct. 30, including details about Drury's ability to hold the full amount until final resolution of any health care provider liens.
Under that option, Gallagher Bassett could issue the full check in the name of Drury's practice. The attorney then would hold "the full amount of any claimed rights to recovery of Medicare, the Centers for Medicare and Medicaid Services, the Illinois Department of Healthcare and Family Services and/or any private health insurance company's claimed rights to recovery."
Although Drury allegedly made repeated requests for the money, GBS allegedly did not issue the check until Dec. 3.
While the law proscribes payments from such settlements to be made with 30 days following confirmation of the settlement, Kifarkis asserted GBS failed to issue payment within the required timeframe.
The complaint particularly cited a purported Oct. 29 voice mail from a GBS representative acknowledging acceptance of the release and indicating the firm was waiting for feedback from Medicare. However, resolution of Medicare's issue should not have upheld the payment, according to statute, the complaint said.
Kifarkis' complaint asked the court to certify a class of plaintiffs potentially including anyone else who, dating back to 2005, had to wait too long for a third-party payment linked to "a personal injury, property damage, wrongful death or tort action" from GBS. However, Kifarkis also said he believes GBS is not the only such company allegedly taking too long to pay settlement funds. So he is also asking the court to expand the list of defendants to include a class of "all insurance companies and/or their agents and representatives" who allegedly violated the same state law, and expand the plaintiffs class to include anyone who, since 2005, experienced a delay beyond the legally required timeframe in receiving their settlement funds.
Kifarkis' complaint alleged four formal counts against GBS and other potential defendants, including violation of the state law regarding settlement payments, unjust enrichment, the call for an injunction to keep GBS and other such firms from withholding payments and a declaratory judgment. T
he complaint anticipated the plaintiff and defendant classes could potentially "include hundreds or thousands of persons and entities."
Kifarkis' complaint said he and any member of the plaintiff class are entitled to damages and interest. It called for Drury to serve as class counsel and for Gallagher Bassett's attorneys to represent the defendant class. In addition to the injunctive relief and declaratory judgment, Kifarkis, who would serve as plaintiffs' putative class representative requested damages, legal fees "and an incentive service award for the plaintiff class representative."