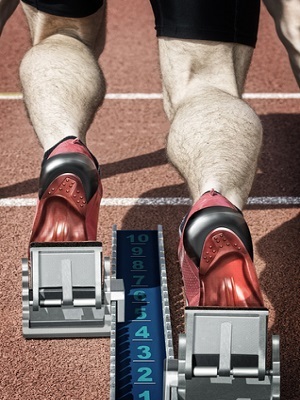 The father of a physically disabled Evanston Township High School track athlete, who doesn't need a wheelchair, is seeking a federal injunction to force the Illinois High School Association to give his son and other runners like him a different qualifying time – as it also gives wheelchair-bound athletes – so they can compete equally in state championships alongside non-disabled competitors.
On Feb. 4 in U.S. District Court for Northern Illinois, Keith Holzmueller filed for an injunction on behalf of his 15-year-old son, identified as A.H. in court documents, against the Illinois High School Association, alleging the association is violating the U.S. Rehabilitation Act, the U.S. Americans with Disabilities Act and the equal protection clauses of the U.S. and Illinois constitutions. The Bloomington-headquartered IHSA organizes and administers state athletic competitions for almost all high schools in Illinois.
A.H. is a sophomore who has physical disabilities that include spastic quadriplegia, caused by cerebral palsy suffered at birth, according to the lawsuit. His movements, coordination and balance are limited, but he is not bound to a wheelchair and is a "committed" athlete, who focuses on running, according to the suit.
A.H. takes part in his school's local track and cross-country events, and is considered one of the top disabled high school runners in Illinois, the suit said. However, A.H. cannot participate with his team in state meets, because he cannot attain the same qualifying time standards required of non-disabled contestants. Besides losing out on the gratification of competing at this level, A.H. said he is deprived of the recognition that comes from state meets, and as a result, colleges are less likely to be aware of his accomplishments and offer him athletic scholarships.
A.H. pointed out IHSA provides accommodations in some sports to physically disabled, wheelchair-bound athletes – who are also afflicted with cerebral palsy – so they can participate in state meets.
IHSA also sets different standards based on gender, school size and geography. A.H. claimed that because of geography-based sectionals, some competitors in individual sports, such as track and swimming, can advance to state championships, even though they do not satisfy qualifying times.
A.H. complained of this disparity to IHSA in September, alleging the IHSA discriminates against him and other similarly handicapped athletes. He asked IHSA to set different qualifying times for runners such as himself and to establish a division for the disabled, who do not use wheelchairs, in the inaugural IHSA 5K road race event set for July 30 in Normal. A.H. noted such accommodations are in place in California, Louisiana and Oregon, and would be easy to implement in Illinois.
IHSA declined to do so, replying, according to the suit, "A.H. has the same opportunity to compete . . . as his nondisabled peers."
A.H. next appealed to the IHSA board of directors, but said he was again turned down with the words the board "does not believe that his disability entitles him to accommodations which would better assure his chances for victory."
IHSA's refusal prompted A.H. to allege IHSA has created an "irrational inconsistency," by giving a break to wheelchair-bound athletes afflicted with cerebral palsy, but not those with cerebral palsy who are free of wheelchairs.
A.H. wants IHSA to be court-ordered to oblige non-wheelchair physically disabled athletes and to award any monetary damages that might apply.
A.H. and his father are represented by the Chicago firm of Jenner & Block. The case is assigned to U.S. District Judge John J. Tharp Jr.
IHSA was served with a summons Feb. 11 and is to reply to the suit by March 3, court records indicated.