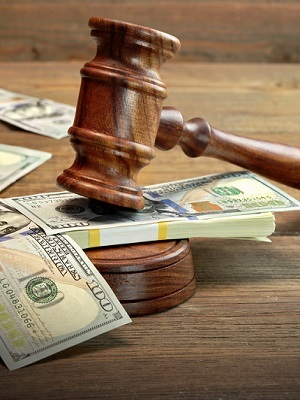 A man who claimed someone had fraudulently run up more than $2,500 in debt on a credit card opened in his name without his knowledge has secured another chance to press a lawsuit against a suburban debt collection agency, after a state appeals panel found the agency may have broken federal debt collection laws by suing the man over the contested debt after the statute of limitations had expired.
On March 4, a three-justice panel of the Illinois First District Appellate Court ruled in favor of Danny Egan, saying a lower court had erred in dismissing his countersuit against debt collection company HBLC over his claims HBLC should be held to account for waiting too long to bring their debt collection action against him.
The appellate opinion was authored by Justice Robert E. Gordon, with concurrence from Justice Jesse Reyes and Justice Bertina E. Lampkin.
More than four years ago, HBLC filed suit in Cook County Circuit Court against Egan, alleging he failed to make payments on a Credit One Bank credit card account, owing $2,545, plus accumulating interest and legal fees. Egan replied he had not opened the account, but rather, someone had hijacked his personal information and fraudulently opened and used the account.
Egan lodged a class-action counter-complaint, alleging HBLC and its Chicago attorney, Steven J. Fink, disregarded the federal Fair Debt Collection Practices Act (FDCPA) and the Illinois Collection Agency Act by suing him in January 2012, even though they were aware the five-year statute of limitations had expired. Egan claimed the five years began running with the last activity on the account, which was in September 2006.
Egan said HBLC and Fink filed more than 1,000 consumer debt collection suits between 2011 and 2012 in Cook County Circuit Court. HBLC is based in northwest suburban Cary.
Egan alleged HBLC and Fink used "unfair and deceptive means" to collect the debt by misrepresenting to Egan he had to pay the debt, although he was not obliged to do so, because of the statute of limitations. HBLC and Fink then filed a motion to toss Egan's counter-suit, which Cook County Judge Kathleen Kennedy granted in 2014. Egan then appealed.
The issue before the appellate court was whether HBLC and Fink breached the FDCPA by knowing the statute of limitations had expired, but going ahead and filing the suit. The appellate court found that, although the U.S. Supreme Court has not ruled on the question, numerous federal courts have done so.
One of these rulings came in 2013 from the U.S. Seventh Circuit Court of Appeals. That ruling quoted from a 1987 Alabama federal district decision, which in turn the Illinois First Appellate Court quoted.
"Few unsophisticated consumers would be aware that a statute of limitations could be used to defend against lawsuits based on stale debts, such consumers would unwittingly acquiesce to such lawsuits. And, even if the consumer realizes that she can use time as a defense, she will more than likely still give in rather than fight the lawsuit because she must still expend energy and resources," the Alabama district court observed.
The appellate court said it was satisfied prior rulings established that a time-barred debt collection suit could violate the FDCPA. With that understanding in mind, the appellate court addressed defendants' contention no violation occurred, because there were no misrepresentations in the suit itself.
The appellate justices were not moved, pointing to rulings from other courts, especially the nation's high court, which said earlier this year, "The suggestion that the 'mere filing of a lawsuit' cannot be abusive is either naive or disingenuous."
The appellate court went on to say, in its own words, "The knowing filing of a time-barred lawsuit would be improper where, as here, HBLC and Fink have not attempted to argue that there is a reason why their claim is still viable."
As a result of these determinations, the appellate court reversed the circuit court's dismissal, bringing Egan's case back to life.
Egan is represented by the firm of Keogh Law, of Chicago. HBLC and Fink are represented by Hinshaw & Culbertson, of Chicago.