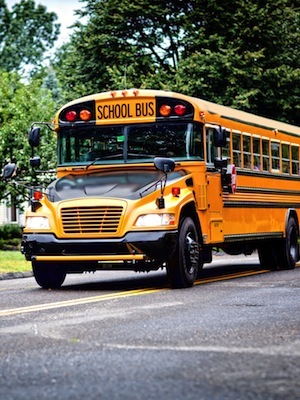 A group of school bus drivers has delivered a potential class action lawsuit to another school bus company, claiming the provider of transportation services to school students in Chicago's suburbs has stiffed them on wages and overtime, by allegedly paying them only for the time they were on their routes, and not for the 15-45 minutes of work they claim they did each day before and after.
On March 17, a group of nine school bus drivers filed a complaint in Chicago federal court against Student Transportation of America (STA), identified as its Illinois registered corporate entity, Positive Connections Inc., which the complaint said operates two school bus yards in suburban Markham.
STA is a local affiliate of Wall, N.J.-based Student Transportation Inc.
Named plaintiffs in the action include Sophia Bailey and Oscar Davis, both of South Holland; Ca Shae Hayes, of Glenwood; Gloria Jackson, of Calumet City; Erica McGriff, of Country Club Hills; Rhonda O'Connor, of Lansing; Patricia Price, of Matteson; Ronald Sweatt, of Park Forest; and Charmaine Reed, of Phoenix, Ill.
According to the complaint, they believe their claims could be extended to include a potential class of as many as 300 additional plaintiffs, or more.
The complaint said drivers, before 2015, were ordered to complete and submit timesheets to STA showing only "the number of hours (STA) estimated it should have taken the drivers to complete their routes."
This, the complaint said, meant drivers' timesheets only included 7.5 hours each day, "regardless of the amount of time … actually spent completing (a) route or performing other work."
Further, the complaint alleged STA management would "strike out portions of the time sheet," should drivers indicate they worked more than the amount of time the company believed their route should take, "and were not paid for the extra time worked."
However, the drivers said they routinely were expected to arrive at the STA yards in Markham and perform such tasks as "starting their bus, making sure it is clean, getting gas and filling out paperwork." They said the company expected them to perform similar tasks upon returning to the bus yards at the end of their routes.
And they said STA refused to pay them for the time spent on those tasks, the complaint said.
They also specifically alleged the company did not reimburse drivers for cleaning supplies purchased for the buses, or pay them for the time spent "cleaning and maintaining their buses."
The complaint estimated, on average, drivers would spend about 15-45 minutes each day on the pre- and post-route chores.
Should drivers be allowed to mark more than 40 hours in a work week on time sheets, the complaint alleged STA, before October 2015, would pay them only their regular hourly wage for any time over 40 hours, and not the time-and-a-half required under wage and hour labor laws.
The complaint, for instance, alleged McGriff was paid only regular hourly wages for 52 hours of work,, and not 12 hours of overtime at time-and-a-half. Davis also alleged that, since STA estimated his route should take 48.75 hours to complete one week, he was paid only 48.75 hours at his regular hourly wage rate, and did not receive 8.75 hours of overtime pay.
They alleged STA attempted to obscure its practices, in part, by paying workers every two weeks, allowing the company to reflect in some instances that a driver had worked an average of 40 hours per week, even though the driver may have worked more than 40 hours during one of the weeks, and less than 40 hours the following week.
The plaintiffs asked the court to certify two classes of additional plaintiffs to include drivers employed by STA who weren't properly paid overtime, and an additional class of drivers who they alleged were not paid for the pre- and post-route work.
Plaintiffs said they believed each class likely would include more than 300 people.
The plaintiffs have asked for damages including back pay and unpaid overtime dating back to 2013, unspecified "liquidated damages" equal to the amount of unpaid wages and overtime allegedly owed under the complaint, and statutory damages under applicable state and federal law, plus attorney fees.
They are represented in the action by attorneys with the firm of Caffarelli & Associates, of Chicago.
The STA complaint marked the second such class action lawsuit brought against a school bus company operating in Illinois in recent months.
In the fall of 2015, a group of more than five dozen drivers sued First Student, alleging similar violations of federal and state labor laws against that company. That case remains pending in Chicago federal court.
In February, however, U.S. District Judge James Zagel dismissed all but one of the counts in that complaint, saying the driver plaintiffs in that case failed to show the bus company did not follow the minimum wage laws by not paying them for work before and after their routes, nor did such policies necessarily violate the federal Fair Labor Standards Act. Zagel said the plaintiffs in that case could be allowed to try again with new claims under Illinois wage laws, but not their claims for uncompensated regular work time under the federal law.
Zagel did not rule on the First Student drivers' claims regarding uncompensated overtime.