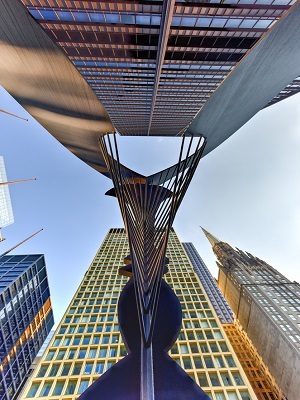 Two weeks after his bid to win the Democratic nomination for the Illinois State Senate seat representing several south suburban communities ended in defeat, a Hazel Crest lawyer and local library board member has brought a defamation lawsuit against the incumbent state senator who bested him, claiming a flier allegedly distributed by the incumbent's reelection campaign went too far.
On Tuesday, March 29, McStephen O.A. "Max" Solomon filed suit in Cook County Circuit Court against state Senator Michael E. Hastings, and Hastings' campaign organization, Citizens for Michael E. Hastings, demanding more than $1 million in damages for a campaign ad distributed throughout the district which Solomon asserted damaged his public and professional reputation in his local communities.
Hastings, of Tinley Park, has represented the 19th State Senate District since 2012. On March 15, Democratic voters in the district in south suburban Cook County selected Hastings to seek another term in office, preferring him overwhelmingly to the challenger, Solomon. According to election results posted by the Cook County Clerk's Office, Hastings received 80 percent of the 31,849 ballots cast in that election, securing 23,344 votes to Solomon's 5,816.
Two weeks since his defeat, Solomon brought the lawsuit over the alleged false and misleading treatment he received at the hands of the Hastings campaign.
According to the lawsuit, between Feb. 21 and March 10, the Hastings campaign mailed and handed out fliers to residents of Country Club Hills, Hazel Crest, Matteson, Markham and Richton Park which criticized Solomon for what the flier asserted was a record of missed meetings and unnecessary lawsuits while Solomon served on the Grande Prairie Public Library District board.
The flier, which Solomon attached to the lawsuit, declared Solomon "missing action" and claimed Solomon "has managed to miss over 95 percent of his regularly scheduled meetings and public hearings in the last year," even though the library board "only meets once a month." The flier also asserted Solomon "has cost tax payers hundreds of thousands of dollars in legal expenses because of lawsuits which courts call 'mere fishing expeditions.'" The flier did not clarify whether the allegations connecting Solomon with allegedly wasteful litigation was based on his work as a lawyer or as a member of the library board.
"We already have state legislators who cannot do their jobs, why send another one down that will sit at home," the flier said. "Max Solomon will only make things worse, not better."
In his lawsuit, Solomon said the statements contained in the flier should be considered defamatory because they were "false statements and words … imputing an inability to perform or want of integrity in the discharge of duties of office or employment" and "imputing a lack of ability or that otherwise prejudice a person in his or her trade, profession or business."
Solomon is representing himself in the action.