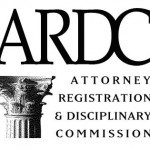 A Chicago lawyer who made the headlines earlier this year when she filed petitions related to the disappearance of Malaysia Airlines Flight 370 before any evidence was recovered has been censured by the Illinois Supreme Court for her actions in a different aviation case.

The court last week issued a censure to Monica E. Ribbeck, who records show also goes by Monica R. Kelly, was admitted to the bar in 1994 and works at Ribbeck Law Chtd. A censure is a form of discipline that determines a lawyer engaged in misconduct, but that the violation doesn't warrant a disruption to his or her practice.

Ribbeck was one of 21 lawyers who received discipline from the justices last week as part of their November term. They disbarred two lawyers on consent, suspended 15, censured two and reprimanded two.

Ribbeck's censure stems from a complaint the Illinois Attorney Registration and Disciplinary Commission (ARDC) filed in 2011, accusing her of filing a personal injury lawsuit on behalf of air crash victim nearly a year after he had discharged Ribbeck Law..

When she filed the suit in 2010, the ARDC claimed Ribbeck knew or should have known she no longer represented Mustafa Gumus, a resident of the Netherlands who suffered injuries when a Boeing aircraft operated by Turkish Airlines crashed in 2009.

In March 2009, Gumus retained a law firm in the Netherlands that retained Kreindler &Kreindler in New York and Power Rogers & Smith in Chicago the next month to represent him in the U.S. in seeking damages for the plane crash, according to the ARDC.

At the direction of Ribbeck, an independent contractor hired by her firm allegedly went to Gumus' home in April to get him to sign a retainer agreement. The ARDC says Gumus, who was recovering from his injuries and on pain medication at the time, agreed to retain Ribbeck Law to represent him in suing Boeing over the crash.

Gumus discharged Ribbeck Law about two weeks later, when he sent a statement withdrawing his retention of the firm and explained the contractor didn't give him "time for reflection" before having to sign the agreement. It also noted he was represented by other attorneys.

Despite not communicating with Gumus for nearly 11 months, the ARDC complaint alleged Ribbeck filed a complaint in April 2010 in Cook County Circuit Court against Boeing on behalf of Gumus, as well as other passengers, over the crash.

In May 2010, Gumus' attorneys with the Kreindler law firm tried reaching out to Ribbeck via email, phone calls and letters to request she withdraw, according to the complaint that notes they then filed a motion to substitute counsel. Ribbeck apparently did not respond.

The ARDC complaint says an attorney with Ribbeck Law called an attorney with Kreindler & Kreindler to ask that the New York firm, before its motion to substitute counsel was heard the next day, agree to pay Ribbeck Law half of any fees it received in Gumus' case.

The Kreindler attorney apparently rejected the fees demand and on June 9, 2010, a judge granted the motion to substitute counsel, effectively booting Ribbeck Law from the case.

The ARDC accused Ribbeck of failing to withdraw from a case after being discharged by a client, making a false statement to a tribunal, soliciting work for the purpose of pecuniary gain and engaging in conduct involving dishonesty, fraud, deceit or misrepresentation, all in violation of Illinois Rules of Professional Conduct.

Both the ARDC Hearing and Review boards recommended Ribbeck be censured after determining she failed to withdraw from representing Gumus after he had discharged her. They, however, found the administrator failed to prove she solicited employment from Gumus, made a false statement to a tribunal or engaged in dishonesty, fraud, deceit or misrepresentation.

Making note of her favorable character testimony and the fact she had no prior discipline, the boards recommended she be censured. The Illinois Supreme Court agreed and did so last week, after denying her petition for leave to file exceptions to the Review Board report.

Although this matter is now behind her, Ribbeck is facing the possibility of additional discipline in an unrelated case.

The ARDC in July lodged a complaint against Ribbeck, accusing her of filing a frivolous pleading related to the March 2014 disappearance of Malaysia Airlines Flight 370, a Boeing aircraft carrying more than 200 passengers and crew members that went missing on its way to Beijing.

Before any evidence was recovered revealing that the plane had been diverted before crashing into the Indian Ocean, the ARDC alleges Ribbeck, or someone under her direction, using the name "Monica R. Kelly" filed a petition for discovery under Supreme Court Rule 224.

The petition was filed in the Cook County Circuit Court and named Boeing Co. and Malaysian Airlines. It alleged that Ribbeck represented the estate of Firman Chandra Siregar, who the petition said was a passenger on the flight, that the plane had crashed and Siregar had died.

The ARDC, however, contends the allegations in the Ribbeck's petition "had no basis in fact and were frivolous, because [Ribbeck] knew at the time she filed the petition that no evidence had been discovered regarding the location or disposition of Malaysian Airlines Flight 370."

In addition, the ARDC asserts that Ribbeck's petition was frivolous under Rule 224-- which allows the filing of discovery petitions for the sole purpose of identifying potential defendants-- because she knew the missing aircraft was made by Boeing and was operated by Malaysian Airlines.

The commission points out in its complaint that Ribbeck on March 25 conducted news briefings with the media in Kuala Lumpur, where the then-missing plane had departed from, to announce her petition filing and claim that Boeing and Malaysian Airlines were responsible for the plane's disappearance.

Cook County Circuit Judge Kathy M. Flanagan dismissed the petition in a March 28 ruling that deemed the petitions baseless and outside the scope of Rule 224. The judge said she would impose sanctions if Ribbeck Law brought the same kind of filings again.

The complaint notes that twice in 2013, Flanagan threw out Rule 224 petitions Ribbeck filed against aircraft manufacturers.

The ARDC accuses Ribbeck of bringing frivolous pleadings and engaging in conduct prejudicial to the administrative of justice by wasting judicial resources by filing a frivolous pleading, in violation of Rules 3.1 and 8.4(c) of the Rules of Professional Conduct, respectively.