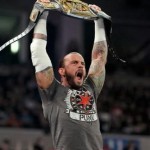 A ringside doctor for the World Wrestling Entertainment (WWE) hit two former wrestlers with a defamation lawsuit Thursday.

The suit, filed in Cook County Circuit Court, focuses on statements Phillip Jack Brooks and Scott Colton-- known to WWE fans as CM Punk and Colt Cabana, respectively -- made about Dr. Christopher M. Amann last year on Colton's "The Art of Wrestling" podcast.

Amann, a Will County resident who has worked as the senior ringside physician for WWE since 2010, claims the duo's statements were false, defamatory and put him a false light by improperly insinuating "a lack of integrity ... and/or inability or lack of competence to perform his professional duties as a medical doctor."

Claiming his reputation has suffered as a result of the former WWE wrestlers' comments, Amann is seeking more than $1 million in compensatory damages, as well as an undetermined amount of punitive damages.

During the Nov. 26 episode of Colton's weekly podcast, Amann says Brooks "repeatedly and falsely impugned the integrity" of him as a doctor by saying he misdiagnosed a growth on the wrestler's back as a fatty deposit and disregarded requests to remove it.

Brooks went on to say "the lump grew to the size of a baseball, was purple and morphed into a life-threatening, 'full-blown' MRSA staph infection," according to Amann's suit, which includes a lengthy transcript of the episode as an exhibit.

Brooks, who has transitioned into world of Mixed Martial Arts since his departure from the WWE last year, said it wasn't until he went to his wife's doctor that he learned the lump was a serious infection and was told he could have died from it.

That doctor, according to Brooks, cut and squeezed out the lump's contents in what he described to listeners as "the most painful experience of my entire life."

During the episode, Brooks also said Amann didn't know how to treat a concussion, saying the doctor once prescribed him antibiotics for a concussion. He explained that when he was struck by his opponent during his Royal Rumble match last year, he motioned to Amann and told him he had a concussion.

"[A]nd he was like, 'What do you want me to do?' And I just started laughing and I was like, 'Doctor, you are one of the most worthless piece of s**t I've ever met," Brooks said on Colton's podcast.

Amann says all of the statements Brooks and Colton, both of whom live in Cook County, made, literally and in their implications, are false.

"Amann was not requested by Brooks to treat and/or excise a lump, let a lone a purple, baseball-sized lump," the suit asserts, further alleging that Brooks never sought treatment for or showed him a lump and that he never prescribed Brooks antibiotics for a lump or concussion.

Contrary to the former WWE wrestler's statements, Amann says he followed proper protocol by directing Brooks to leave the ring after a preliminary diagnosis of a possible concussion and even requested further evaluation and treatment in the training room.

In regards to Colton, who left the WWE in 2009 and hosts the weekly podcast that features interviews with professional wrestlers, the suit alleges he helped Brooks falsely depict Amann as a lazy and bad doctor by urging listeners to "hear the struggle" in what Brooks was saying so they could understand why he retired.

Amann claims Brooks and Colton "knowingly fabricated the false and disparaging statements" about him, knowing they would be heard by third parties, such as WWE fans and the media, given their celebrity statuses.

The suit says the Nov. 26 episode of Colton's podcast has been streamed more than 1 million times on YouTube and more than 10,000 times on SoundCloud, in addition to downloads on iTunes and other websites.

The statements they made were also picked up and reported on by media outlets, including the Washington Post, as well as online sites like Buzzfeed and several sports and WWE-related blogs.

In his complaint, Amann says the statements made the defendants "are highly offensive in that they accuse [him] of a gross lack of integrity as a medical doctor, an inability to perform his professional duties as a medical doctor, and in placing the financial interest of his employer above life-threatening health conditions of his patients."

Amann is represented by Phillip J. Zisook and Brian D. Saucier of Deutsch, Levy & Engel in Chicago.