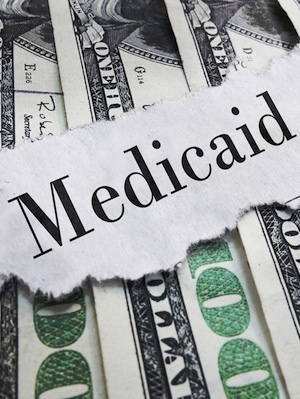 Pediatric Services of America, Inc. will pay $2.4 million to the state of Pennsylvania as part of a national settlement with 19 other states over allegations it didn't return overpayments made by Medicaid, said Attorney General Kathleen Kane. | Shutterstock
Cook County nursing homes Aperion Care Evanston and GlenBridge Nursing & Rehabilitation Centre are suing the government in a dispute surrounding Medicaid reimbursements.
Evanston Nursing & Rehab Care, doing business as Aperion Care Evanston, and GlenBridge Nursing & Rehabilitation Centre Ltd. filed suit July 31 in the Chancery Division of Cook County Circuit Court against the Illinois Department of Healthcare and Family Services, its director, Felicia F. Norwood, and Theresa Hursey, acting Medicaid director.
The suit alleges that a state budget shortfall led the defendants to make unauthorized reductions in the plaintiffs' reimbursement rate for the months of May and June.
According to the plaintiffs' claim, the defendants incorrectly calculated the plaintiffs' reimbursement for the period between May 1 and June 30 by basing the amount on appropriations to the state's Long Term Care Provider Fund. The plaintiffs are asking the court to calculate the reimbursement according to the amount specified in Public Acts 99-0001 and 99-0002, which is 2.25 percent of the General Revenue Fund's Medicaid appropriation. The plaintiffs claim this method should be used to calculate their reimbursement for the remainder of 2015.
The Chicago firm of Polsinelli PC is representing the plaintiffs.
Cook County Circuit Court case number 2015-CH-11615