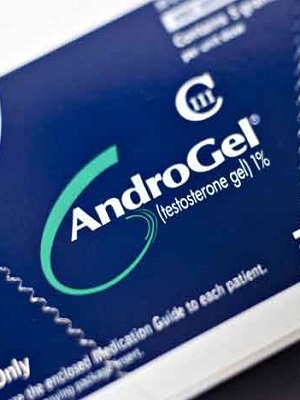 A federal judge has declined to drop the Belgian company which makes Androgel and its American licensee from a multi-state class action lawsuit, which alleges the companies' testosterone restorative drug is not only useless, but harmful. However, the judge did leave the door open that jurisdiction over the case could lay elsewhere.
In March 2014, a class action lawsuit involving more than 2,000 plaintiffs from around the country was consolidated in the U.S. District Court for Northern Illinois in Chicago. The suit was against a number of companies for injuries allegedly caused by the companies' testosterone replacement drugs.
Two of the defendants are Besins Healthcare, S.A. and its subsidiary Besins Healthcare Inc., the former a Belgian corporation headquartered in Thailand, the latter a Delaware corporation with principal offices in Virginia.
Besins manufactures AndroGel, a topical treatment applied to the skin to help raise low testosterone. Besins Inc. holds the U.S. patent to Androgel. In 2013, sales of AndroGel totaled more than $1.4 billion in the U.S. The gel has the approval of the U.S. Food and Drug Administration.
Plaintiffs claimed AndroGel is useless and instead causes blood clots and other harm to the cardiovascular system.
Besins S.A. and Besins Inc., filed a motion to dismiss themselves from the 14-count suit. In response, plaintiffs conceded six counts did not apply to Besins and agreed to drop them. Of the remaining counts, three were for claims of design defect, negligence and redhibition, with five other claims seeking damages based on those three counts.
In a Sept. 30 ruling, U.S. District Judge Matthew F. Kennelly considered the three salient counts.
The design defect and negligence allegations rode together, as defendants' used the same defense for both, arguing plaintiffs did not state a claim. To advance this argument, defendants maintained plaintiffs did not specify what defendants contributed to the "design" of AndroGel or exactly how the drug is defective. But Kennelly pointed out this contention is "simply untrue," as plaintiffs presented "detailed allegations" about the health hazards of AndroGel and how AndroGel causes those hazards.
Defendants further argued plaintiffs needed to allege the existence of a safer alternative design to AndroGel, as well as to show the drug lacks medical benefit. Kennelly shut down this approach by noting defendants first raised these issues in their reply and plaintiffs have not had the chance to respond. As a result, defendants forfeited the issues for the purpose of the motion to dismiss.
However, Kennelly went forward and addressed the arguments on their merits. He said the point about the alternative design is relevant, but not necessary in every case - and not weighty enough to sink the AndroGel case. Kennelly found plausible the proposition AndroGel is not medically useful. Kennelly went on to explain his role at this stage in the proceedings is to "determine whether such a claim is plausible, not to determine how plaintiffs must go about proving their claim or to assess the probability of their success."
Plaintiffs filed a claim under Louisiana's law of redhibition, in which a buyer of a defective product can demand a refund or reduction of the price paid. Again, defendants' arguments against the redhibition claim are forfeited, Kennelly said, because they were only raised in reply. However, Kennelly held they are yet groundless.
As an example, Kennelly pointed to defendants' assertion the redhibition claim required plaintiffs to give defendants the chance to correct the supposed defect in their product, something plaintiffs did not do. This is wrong, according to Kennelly, because this requirement only applies to a "good-faith seller" and not to manufacturers, such as Besins S.A. and Besins Inc.
The Belgian defendant, Besins S.A., also asserted the court's exercise of jurisdiction over Besins S.A. would not be consistent with due process, as plaintiffs have not shown Besins S.A. regularly transacted business in all or any of the states involved in the class-action suit.
Kennelly said he does not have enough information to decide whether Besins S.A. has conducted a "regular flow" of business in any of the states. The judge suspected his court may have jurisdiction, but plaintiffs need to undertake further jurisdictional discovery to settle the question.
To this end, Kennelly said he will permit discovery into the following: AndroGel's annual sales in each state; whether sales were targeted at certain geographic areas; the extent to which Besins S.A. is aware of and/or influences where AndroGel is sold in the U.S.; and the distribution agreement between Besins S.A. and Unimed, a company which has rights to market and sell AndroGel in the U.S.
Kennelly is also permitting plaintiffs to look into what economic knowledge Besins S. A. might have had that influenced its agreement with Unimed or influences where AndroGel is sold.
Besins is represented in the action by attorneys with the firm of Foley & Lardner, of Chicago. Plaintiffs are represented by dozens of law firms from throughout the U.S.
A case management conference is set for Oct. 15.