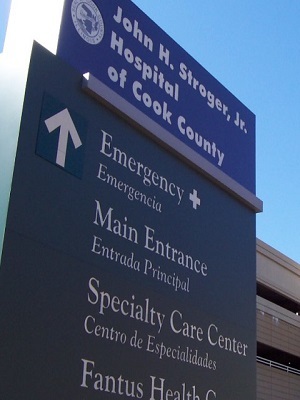 A patient is suing a Chicago hospital, alleging medical negligence.
Jaime Flores, of Chicago, filed a lawsuit Sept. 3 in Cook County Circuit Court against the County of Cook, doing business as John F. Stroger Jr. Hospital (formerly known as Cook County Hospital), Dr. Douglas R. Smego and Dr. Michael Vercillo.
According to the complaint, on Sept. 5, 2013, Flores visited Stroger Hospital, complaining of shortness of breath. During a procedure to withdraw fluid from the sac surrounding Flores' heart, the suit says, Smego and Vercillo punctured the plaintiff's right ventricle, causing him to go into cardiac arrest and suffer oxygen deprivation to the brain.
As a result of his injuries, the lawsuit alleges the plaintiff suffered permanent damage interfering with his income-earning ability and requiring additional medical expenses.
Flores seeks more than $50,000 in damages, plus court costs. He is represented by attorneys Stephan D. Blandin, Michael E. Holden and Rebecca E. Neubauer of Romanucci & Blandin in Chicago.
Cook County Circuit Court case number 2015-L-009098.