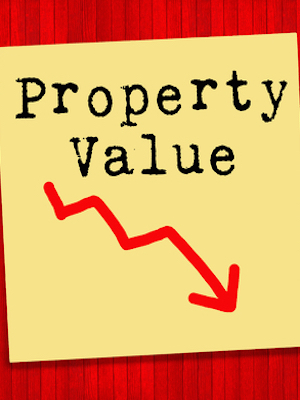 COOK COUNTY – According to data released by the Cook County Tax Assessor's office, property values in Cook County townships are stabilizing, but still declining, producing signs the local real estate markets are inconsistently recovering from the economic crash about seven years ago, observers said.
Attorneys Ares Dalianis and Scott Metcalf of Franczek Radelt, PC, compiled data obtained from the Cook County Assessor's Office to observe the trends in the total assessed property value and new property values for the county's thirty townships.
"Just about everybody is down," said Dalianis. "None have gained. Some are recovering, but none are in positive territory at this point.
Cook County property values began their nose-dive after the 2008 economic recession.
"Every year until 2008, assessments would basically click up," said Dalianis. "'08 was the high-water mark in Cook County. The Great Recession pushed values down dramatically."
According Dalianis, the aggregate reduction was close to 30 percent, meaning property values decreased by nearly one-third compared to their pre-recession worth.
When property values decrease, tax increases, because of the mathematical formula that establishes taxes.
"It's just the math," said Dalianis. "When you shrink the denominator [property value], the fraction is going to be bigger."
Dalianis said the southern townships of Cook County have taken "more of a hit" with property value decreases, because the southern region has less commercial and industrial development, and therefore less economic development to cushion the recession's blow.
"If you look at where the commercial activity is in Cook County, you have some pretty vibrant commercial areas in the north and northwest suburbs, but in the south suburbs, you only have Orland Square Mall, and there are other areas, like Lincoln Mall, that are really in distress," said Dalianis.
Despite a uniform pattern of decrease in property value, the data reveals that new property value, in some areas of Cook County, has not been consistent between townships.
Some townships, like Leyden, Riverside, and Elk Grove, saw a dramatic increase in new property values between 2012 and 2014. Cicero Elk Grove jumped from $1,453,656 to $7,970,824; Riverside jumped from $73,258 to $2,392,449; and Leyden jumped from $1,491,021 to $15,258,186.
However, some townships have seen dramatic drops in new property value; for example, that of Rich's fell from $1,507,425 to only $210,053.
"What that tells me is that there's simply not a lot of new development – whether it means new subdivisions, homes, offices, malls, industrial buildings – it's just not there," said Dalianes.
New property value is a "positive thing," Dalianes explained, because it is not subject to a tax cap in the first year under the Property Tax Extension Law Limit (PTEL). The only two townships to show any increase in new property value are Cicero and Riverside.