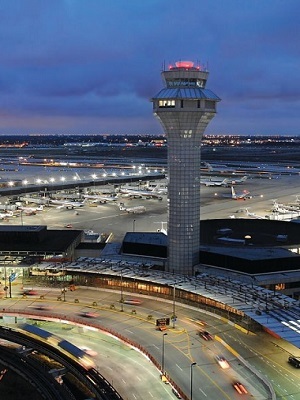 A turf war has spilled into federal court over the rights to a city of Chicago contract worth as much as $25 million to install new artificial turf in place of grass along a new taxiway at O'Hare International Airport.
On Dec. 18, FieldTurf USA Inc., the maker and installer of artificial turf in stadiums and other settings throughout the U.S. and the world, filed suit in federal court in Chicago, asking a judge to forestall a threatened attempt by a rival artificial turf installer, identified as Chicago-based AvTurf, to interfere with the company's O'Hare contract and declare FieldTurf has not violated AvTurf's patent.
The legal action came a little over two weeks after FieldTurf alleged it received a letter from AvTurf, purportedly threatening to sue FieldTurf for violating AvTurf's patent on a process for installing artificial turf along runways and taxiways at airports.
In its complaint, FieldTurf, a corporation registered in Florida and based in Montreal, Quebec, Canada, said the city of Chicago had solicited bids from artificial turf installers to install artificial turf to replace grass groundcover along the new Taxiway LL, also known as Taxiway Lima Lima, as part of the city's modernization improvement program at O'Hare.
According to the complaint, the city had estimated the project's cost at $15-$25 million.
FieldTurf secured the deal, and began work this fall on the project, with plans to complete the work in spring 2016.
However, in early December, FieldTurf said it received the letter from its rival, AvTurf, who FieldTurf said had also bid on the O'Hare work. The letter allegedly notified FieldTurf it was violating a patent AvTurf had secured in October 2015, and threatened legal action if FieldTurf did not stop work.
FieldTurf responded with its new lawsuit against AvTurf, arguing its installation process was different enough from that described in AvTurf's patent to avoid violating the patent, and also that, since it began work on the O'Hare project before October 2015, any claims under this particular patent shouldn't apply.
Legal differences between the two companies date back more than a dozen years. In 2004, the companies settled a lawsuit filed by AvTurf against FieldTurf, also over the installation of artificial turf.
In that lawsuit, filed in 2002, AvTurf had asserted FieldTurf had stolen its invention of a method to install artificial turf, similar to that manufactured, sold and installed by FieldTurf, in a manner deemed safe along airport runways and taxiways. Specifically, AvTurf in its 2002 litigation said it had invented a way to make the installed artificial turf strong enough to support even the largest aircraft.
That invention came at a time airport operators and federal aviation regulators were investigating the feasibility of replacing grassy areas at airports with artificial turf to reduce landscape maintenance costs and improve airport safety, by minimizing risks of aircraft colliding with maintenance vehicles or wildlife drawn to the grassy expanses.
AvTurf had secured rights to demonstrate their products during a trial run at Chicago's Midway International Airport about a decade ago.
FieldTurf is represented in the current action by attorneys with the firm of Winston & Strawn, of Chicago.