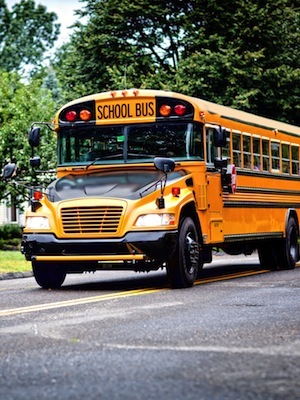 A man who formerly helped manage the Chicago Public Schools' busing contracts has sued CPS, alleging the city's public schools system fired him for "political and financial reasons" after he attempted to end practices which he claimed allowed the busing vendors to work together to allegedly bilk CPS and taxpayers who support it out of untold millions of dollars and costing CPS students millions of hours of lost classroom time in the process.
On Feb. 16, Jeffrey Hubert, former director of contract management in CPS' student transport services department, filed his complaint in Cook County Circuit Court under the state whistleblower law, demanding CPS be made to rehire him with back pay, plus interest, after the school system fired him about one year ago for his actions to purportedly uncover and fix alleged corruption within CPS' bus services.
According to the complaint, Hubert was hired by CPS to work with its busing contracts in January 2013. According to information posted by Hubert online, he came to CPS from a career in private sector logistics dating back to the early 1990s, including, since 2000, stops in leadership posts at "multi-modal logistics provider" GroundAir Logistics and Greyhound Lines.
After he was hired at CPS, Hubert alleged he immediately began noticing allegedly strange and potentially illegal behavior from CPS' school bus vendors.
Among other allegations, Hubert accused the bus vendors of "colluding in their bidding contracts amongst themselves and with CPS," which he said was done "to the detriment of CPS."
The bus vendors were not named in the complaint. However, according to a press release issued in March 2013, CPS said it worked at that time with 20 vendors to bus about 5 percent of its student population, including many students with special needs, to and from school each day.
Hubert said the vendors would routinely "bill for services that they had not performed," including running "ghost buses" – or buses reported to have run a route, but which never actually did – and carrying "ghost riders." Hubert said falsely inflating ridership numbers allowed CPS and the vendors to grab reimbursements for which they otherwise would be ineligible.
He said the ghost ridership phenomenon was particularly pronounced during summer school for routes serving students with special needs.
Hubert further alleged the vendors were, "with the knowledge of CPS," disabling GPS and video recording units in their buses to make it more difficult for anyone to prove they had not run the buses or transported the students they had claimed. Hubert said more than 20 percent of CPS bus routes "could not be confirmed by GPS to have been operated."
At the same time, Hubert said buses routinely ran late, with just 60 percent of buses arriving on time.
"These late buses had dramatic and negative impact on the students who relied on the buses due to the disruption and delay of the start times of thousands of classrooms, adding up to millions of instructional hours being lost," the complaint said.
The tardiness and other violations could have cost the vendors potentially millions of dollars in damages, under the terms of their contracts with CPS, Hubert said. And he said the vendors "colluded to inflate their bid prices by millions of dollars in anticipation of" being made to pay up.
Yet CPS, when the issues were brought to its attention, steadfastly either ignored what it was told or refused to do anything about it. Hubert said he was "opposed" and "prevented" by CPS officials from enforcing the contract provisions requiring the vendors to pay for the violations.
"Hubert attempted to enforce the liquidated damages provisions in the vendors' contracts, but was prevented from doing so by his superior at CPS," the complaint said. "This wrongful behavior caused great harm to the citizens of Illinois and Chicago whose tax dollars are used to fund CPS."
Hubert was fired Feb. 12, 2015. Hubert asserted he was terminated specifically because he is "cooperating with the U.S. Department of Education, the U.S. Department of Justice and the Federal Bureau of Investigations"
Hubert is represented in the action by attorneys Michael J. Scotti III and Brian Bedinghaus, of the firm of Roetzel & Andress, of Chicago.