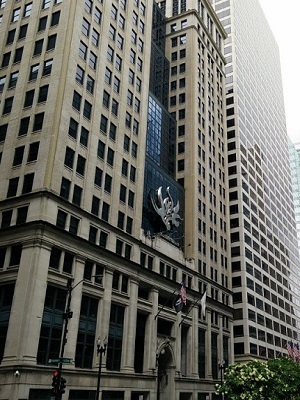 Chicago State University will need to pay a whistleblower more than $3.3 million in damages after a state appellate panel said the jury didn't err in finding the whistleblower was fired for refusing to bottle up public documents that may have cost the incoming president of the public university on Chicago's South Side the chance to draw a pension along with his salary.
On March 2, a three-justice panel of the Illinois First District Appellate Court upheld the judgment of a Cook County jury and trial judge, who had ruled Chicago State University must pay James Crowley, a lawyer and administrator who the university fired under a pretext and then subjected to efforts to "professionally bury" him in a "thoroughly reprehensible" effort to protect new university president Wayne Watson from damaging information contained in public documents requested under the Freedom of Information Act.
"Defendants did whatever they could to protect Watson's reputation, and they did it at Crowley's expense, when he sought only to comply with the public's right to know information about the activities of a state university," the justices wrote in their opinion. "Rather than acknowledge Watson inappropriately got involved in university business affairs before he had officially started, CSU instigated a campaign designed to both economically harm Crowley and to inflict psychological distress upon him."
The opinion was authored by Justice Terrence J. Lavin, with justices Mary Anne Mason and James Fitzgerald Smith concurring.
The events of the case date back to 2009, when CSU announced it had hired Wayne Watson, former head of the City Colleges of Chicago, as its new president. Public statements indicated Watson intended to retire from the City Colleges and begin drawing a pension, in addition to collecting a salary from Chicago State.
However, under the rules of the State University Retirement Systems (SURS), Watson needed to wait three months between jobs in order to start collecting his City Colleges pension.
But during that three month period, allegations arose that Watson, while not yet officially installed as president, had used university money to "renovate the so-called 'presidential residence'" at CSU and was "making decisions at CSU."
The allegations resulted in a flurry of FOIA requests submitted to the university. Those requests were handled by Crowley, a lawyer who, in addition to responsibilities pertaining to public records requests, also managed other university departments, including its bookstore and convocation center.
Crowley assembled the documents and prepared to distribute them, as requested. However, before he did so, he was called into the office of the interim CSU president, where Watson allegedly confronted him about the document release and allegedly threatened him, if he released the documents. Court documents said Crowley also testified Watson asked him to first discuss the documents with a "friendly journalist for damage control purposes."
According to court documents, Crowley pledged to release the documents, and also brought the matter, along with the other allegations of wrongdoing at CSU, to the attention of the Illinois Attorney General's office.
In the meantime, SURS denied Watson's request to draw his City Colleges pension.
Following the document release, CSU purportedly conducted an audit, which uncovered alleged financial irregularities at the CSU convocation center under Crowley's supervision. Those allegations, the university said, eventually led to Crowley's termination in 2010.
The university also purportedly attempted to persuade the Illinois Attorney Registration and Disciplinary Commission to initiate disciplinary proceedings against Crowley. The ARDC rejected that complaint, court documents said.
Crowley sued CSU in 2010, saying he was actually fired in retaliation for the document release, following through on Watson's threat.
At the end of a trial on the matter, a 14-member jury found unanimously for Crowley after only 30 minutes of deliberations, awarding him $480,000 in back pay and punitive damages of $2 million. Cook County Judge James P. McCarthy, citing state law, then doubled his back pay award to $960,000, and ordered CSU to pay Crowley's attorneys $318,000 in fees, and interest of $60,000. The judge also ordered the university to either reinstate Crowley or "provide 'front pay'" in an amount that would be determined following appeal.
The university has declined to rehire Crowley.
On appeal, CSU argued Crowley couldn't sue for retaliatory discharge because he was hired as a lawyer, and arguing the law did not allow the court to award punitive damages in such cases, among other assertions. The appellate opinion noted other Illinois public universities filed briefs supporting CSU's punitive damages contention.
The appellate justices, however, said CSU's arguments did not hold up.
They noted, at trial, CSU never attempted to argue Crowley's retaliatory discharge was precluded by his position as a lawyer. Rather, the justices said the university specifically argued Crowley's firing had nothing at all to do with his legal responsibilities, but was entirely in connection with his job overseeing the convocation center.
"Defendants repeatedly argued to the jury that the termination was wholly unrelated to the FOIA issue," the justices wrote. "The record reveals that defendants never sought the possible protection of this exception to retaliatory discharge liability because they repeatedly represented to the court and the jury that all decisions related to terminating Crowley stemmed from the (convocation center) audit."
As for punitive damages, justices noted the language in the Ethics Act, under which Crowley brought his lawsuit, plainly empowered the court to award wrongly fired public employees both damages to "make the state employee whole and to prevent future violations" of the law – which they said "tracks the very purpose of punitive damages."
And the justices further shot down CSU's contention the $2 million award was "grossly excessive" and harmed the public.
Justices said evidence in the case revealed "Watson and his lieutenants were nothing short of reprehensible and that they acted with malice and deceit" in smearing and firing Crowley. And they noted the jury found the university's $100 million in assets means CSU should be able to weather any harm from paying Crowley "quite handily."
"Our expectation, and hope, is that such ethics violations will not be a common practice opening the state up to liability," the justices wrote. "As such, the punitive damages award in this case should represent the exception rather than the rule. As the trial court noted, if this judgment is to impact taxpayers, it should encourage them to entrust the appropriate individuals with state resources and decision-making authority."
Crowley was represented in the action by attorney Anthony Pinelli, of Chicago.
CSU and its associated defendants were represented by the firms of Pugh Jones Johnson, of Chicago, and Smith Amundsen, of Chicago.