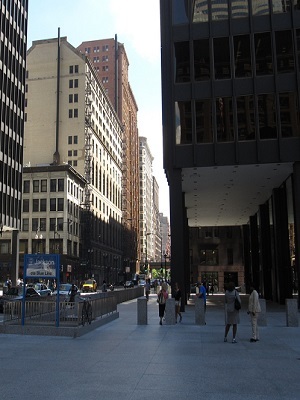 About a month since a federal judge dismissed its lawsuit against Rabobank for allegedly cornering the bankruptcy banking services market through an alliance with a developer of bankruptcy case management software, a Chicago law firm has reintroduced its allegations, this time in a class action antitrust lawsuit directed at the software maker it alleges has conspired with its competitors to overcharge those depositing bankruptcy funds.
On Sept. 14, McGarry & McGarry LLC, of Chicago, filed its complaint in Chicago federal court against Irvine, Calif.-based software designer Bankruptcy Management Solutions Inc.
BMS markets its software to help bankruptcy trustees manage the bankruptcy estates over which they are given charge. Particularly, the software helps the trustees meet "reporting and other obligations" related to the management of the estates under Chapter 7 bankruptcy protection.
While the trustees are not required to use such software, the "vast majority of bankruptcy trustees" use such services, court documents said – and BMS has grown to hold a dominant position, accounting for more than half of the national market for such support services, according to the complaint.
In June, the McGarry firm filed a class action lawsuit against Roseville, Calif.-based Rabobank, alleging the U.S. wing of the Dutch banking group had used a contract with BMS since 2012 to generate enormous business for itself and BMS by requiring all trustees using BMS software to deposit estate funds into Rabobank accounts.
McGarry said this also allowed Rabobank to charge more than it should for the banking services, because it also must pay BMS a cut of the fee.
On Aug. 12, a federal judge dismissed McGarry's lawsuit, siding with Rabobank which argued it did not violate federal banking laws by "tying" its services to any non-banking product, nor did it receive any benefit from such a "tying arrangement."
"The only benefit Rabobank received was the right to provide deposit banking services, which is not an improper anticompetitive practice," Rabobank argued in its Aug. 4 motion to dismiss.
Rabobank also noted trustees were "free to seek deposit banking services from a financial institution other than Rabobank."
McGarry has appealed the judge's dismissal.
As the appeal is pending, however, McGarry has also sued BMS.
In its latest action, McGarry alleged BMS colluded with its largest competitors, identified in the complaint as Epiq and TrusteSolutions, to agree to not charge trustees directly for their software and other support services. Instead, McGarry alleged the software companies agreed in 2011 to collect their fees exclusively from the banks with which they worked, and into which the trustees deposited the estate funds.
McGarry alleged this "conspiracy" was necessary to allow BMS to partner with Rabobank to create agreements under which trustees would pay a combined fee for bankruptcy banking services and the software support services "based upon a percentage of the money in the accounts of the Estate." The bank would then deduct that fee, and pay BMS from it, the complaint said.
The complaint said BMS and Rabobank charge fees of 1.75 percent, the same fee charged by Epiq and its partner bank. TrusteSolutions and its banks charge 1.9 percent, the complaint said.
This setup resulted in McGarry, which was then "an unsecured creditor" of the estate of bankrupt company Integrated Genomics Inc., losing more than $500 to Rabobank and BMS on a payment of about $12,500 from the Integrated estate – a payment McGarry alleged was an "overcharge."
McGarry alleged BMS and its competitors have steadfastly refused to negotiate their fees with trustees, and have fought attempts to force them submit their fees to bankruptcy courts for approval, saying such judicial review on a case-by-case basis would make it more difficult for trustees to find banks willing to work with them.
McGarry has asked the court to create a class of additional plaintiffs, including nearly anyone who has received payment from a bankruptcy estate and paid fees to BMS. McGarry estimated the class would include "at least hundreds" of potential additional plaintiffs.
The law firm has asked the court to order BMS to pay unspecified damages, which could be tripled under an Illinois fee-fixing law, plus attorney fees.
The McGarry firm is represented in the action by McGarry attorney Marianne C. Holzhall, of Chicago, as well as the firm of Dunnegan & Scileppi, of New York.
BMS was represented in the prior case by the firms of LeonardMeyer LLP, of Chicago, and Dorsey & Whitney, of New York.
Rabobank was represented in the prior case by the firms of Jenner & Block, of Chicago, and Davis Wright Tremaine, with offices in San Francisco and Washington, D.C.