A Chicago appeals panel has reversed a lower court's dismissal of a suit against the Anthropologie retail chain, saying a customer with a bowel disease can sue the company under a state restroom access law for not letting her use an employee bathroom, which caused her to soil herself in public.
The Nov. 18 ruling was authored by Justice Robert Gordon, of the Illinois First District Appellate Court, with concurrence from justices Jesse Reyes and Shelvin Hall. The ruling favored Alana Pilotto in her suit against Anthropologie, a clothing store chain owned by Urban Outfitters, which is headquartered in Philadelphia.
Pilotto filed action in 2015 in Cook County Circuit Court, alleging Anthropologie breached the 2005 Illinois Restroom Access Act. The Act requires retailers to allow a customer, with an affliction requiring immediate access to a toilet, to use an employee restroom under certain conditions, if there is no public restroom in the store.
Pilotto suffers from Crohn's Disease. She said she was in an Anthropologie store in Oak Brook in 2014, when she immediately needed a restroom. She asked an employee to use the employee facilities, showing a card that explained the Restroom Access Act, but was refused. Instead, Pilotto said the employee told her to cross the street to a shopping mall and use the bathroom in a store there. As Pilotto was making her way through the mall to the bathroom, she lost control of her bowels in the presence of other shoppers.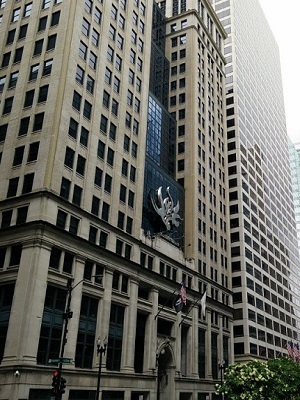 Pilotto said she suffered extreme emotional distress from the incident and has since feared, that while in public, she will not have access to a toilet.
Anthropologie filed a motion to dismiss, contending Pilotto is precluded from pursuing a private suit for an alleged breach of the Act, because the Act provides a penalty for violations. The law designates a violation as a petty offense, punishable by no more than a $100 fine; there is no mention in the law whether violations can be decided by civil suits.
Cook County Associate Judge William Gomolinski agreed with Anthropologie, tossing the suit.
However, appellate justices found little to favor with Gomolinski's decision.
Speaking for the appellate court, Justice Gordon pointed out a private action neither undermines the state's prerogative to prosecute an offense against the Act nor dilutes the penalty. In fact, Gordon maintained private suits would give more teeth to the Act, because a $100 fine is a slap on the wrist, especially for a nationwide retailer. A prohibition against suits might embolden re­tailers to disregard the Act, Gordon added.
Also, the prospect of a light fine, would probably not provide enough incentive to an embar­rassed victim to come forward and lodge a complaint.
"This lack of motivation would render the statute unenforceable as a practical matter," Gordon observed. "The express remedy (the fine) does nothing to make plaintiff whole again."
Pilotto also sued Walgreens in the same action; Walgreens ended up settling.
Pilotto is represented by Chicago lawyer John S. Bishof. Anthropologie is defended by Chicago-based Stone & Johnson.