With just hours to go before unionized airline support workers take to the picket lines for a scheduled strike at O'Hare International Airport, a Chicago federal judge has denied an attempt by one of the employers targeted by the work stoppage to bar its employees from participating in what it calls an illegal strike action.
On Nov. 28, Atlanta, Ga.-based Air Serv filed suit in Chicago federal court, arguing the action called for by the Service Employees International Union Local 1 would come in violation of the federal law under which it and its employees are governed.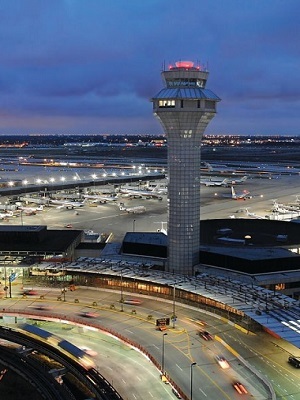 U.S. District Judge John Z. Lee, however, late Monday denied Air Serv's request for a temporary restraining order and preliminary injunction.
According to court documents, Air Serv employs about 500 workers at O'Hare, who serve in a variety of positions supporting the operations of United Airlines and other airlines operating at Chicago's largest airport, including: assisting those in wheelchairs; driving electric carts; providing curbside skycap support; servicing drinking water systems on aircraft; assisting passengers with flight check-in and handling checked luggage; managing airline operational equipment; assisting international passengers with connecting flights; preparing and managing documents for flight crews; and various other security and passenger assistance duties.
Air Serv employees have worked at O'Hare since 2006.
Last week, SEIU Local 1 announced hundreds of workers it represents at O'Hare would take part in a one-day strike, as part of the union's "Fight for $15" campaign. The union pushed the strike action back to Tuesday to avoid the busy Thanksgiving weekend travel period.
That action would also come as Air Serv said it and Local 1 are in the midst of contract talks.
As part of those talks, Local 1 has purportedly demanded Air Serv agree to a process under which the union could represent and organize the company's hundreds of non-union employees working at O'Hare.
In its lawsuit, Air Serv said it is not necessarily opposed to such a process, but it said the company and union have not reached a deal on that question – the sole remaining sticking point in the collective bargaining process, Air Serv said.
Now, Air Serv has accused the union of attempting to use the strike to pressure Air Serv to capitulate on that question, which the company said is illegal under the federal Railway Labor Act.
While Local 1 maintains its actions are governed by the National Labor Relations Act, Air Serv said legal precedent and other regulatory actions maintain it is considered a "derivative carrier," subject to the jurisdiction of the RLA, not the NLRA.
Thus, Air Serv said its workers and the unions that represent them must abide by the RLA's long list of proscribed processes, including mediation and other strategies, to settle labor differences and avert strikes intended to disrupt passenger travel in the U.S.
"The parties are clearly in the middle of an unexhausted major dispute," Air Serv wrote in a memorandum accompanying its complaint. "Local 1 and Air Serv's employees cannot strike over demands for changes in rates of pay, rules, and working conditions until they have exhausted the RLA's major dispute procedures.
"It is also beyond question that this is precisely what Local 1 intends to do."
Air Serv has asked the court to issue a temporary restraining order and other injunctions barring its employees from participating in the strike, and to declare Air Serv and its workers are subject to the requirements of the RLA.
In response, attorneys for Local 1 filed a brief arguing Air Serv's employee collective bargaining processes are, in fact, governed by the NLRA, not the RLA, as Air Serv's employees aren't employed by an airline and thus "are not themselves engaged in the transportation of freight or passengers."
The union argued recent decisions by both the National Labor Relations Board and the National Mediation Board – which are established and empowered by the NLRA and the RLA, respectively – support its contention that Air Serv is essentially a subcontractor governed by the NLRA. Thus, the union said its actions are proper, and can only be regulated by the NLRB.
"Here, there is no indication that the Union has unclean hands," Local 1 argued. "It has bargained in good faith over a new labor contract and Air Serv has filed no charges asserting otherwise. The Union does not intend to strike over any matters that the law forbids. Air Serv is alleged to have committed unfair labor practices in its treatment of its employees.
"Air Serv has made no attempt – other than threatening to seek an injunction – to resolve the disputes over which the strike will occur, either in face to face meetings or through the use of a mediator."
Air Serv is represented in the action by attorneys Lawrence C. DiNardo and Brandon L. Dixon, of the firm of Jones Day, in Chicago.
SEIU Local 1 is represented by attorneys Robert E. Bloch and Josiah A. Groff, of the firm of Dowd, Bloch, Bennett, Cervone, Auerbach & Yokich, of Chicago.