A group of steel makers, led by Chicago-based ArcelorMittal USA, have beaten down a class-action antitrust lawsuit filed by more than a dozen consumers, who alleged the companies schemed to raise prices for goods made with steel, by pointing out the consumers were too far down the distribution line from the steel manufacturers to claim losses.
However, the same steel mills have agreed in the past two years to pay almost $200 million in settlements in a similar class action brought by businesses that purchased steel directly from the mills.
On March 3 in federal court in Chicago, U.S. District Judge Manish Shah dismissed an action forged in 2008 by Michigan-based Supreme Auto Transport, which 15 other parties joined eight years later. Plaintiffs described themselves as indirect buyers of steel consumer products, such as cars, ovens, lawn mowers, dishwashers and refrigerators.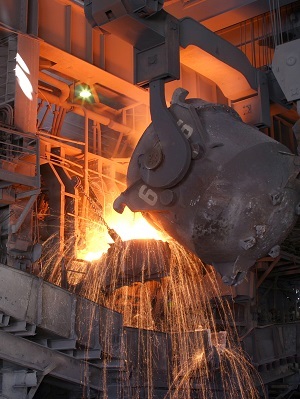 The suit alleged ArcelorMittal USA and seven other steel companies illegally "instituted a plan to improve 'industry discipline' and increase prices and profits, through coordinated production cuts between January 2005 and September 2008," according to court papers. As a consequence, plaintiffs alleged illegal overcharges were passed on to them as consumers, through the distribution line, depriving them of "free and open competitions" for the products.
ArcelorMittal USA was formerly known as Mittal Steel USA. The other defendants are: Nucor Corp., of Charlotte, N.C.; U.S. Steel, of Pittsburgh; Gerdau Ameristeel, of Tampa, Fla.; Steel Dynamics, of Fort Wayne, Ind.; AK Steel Holding Corp., of West Chester, Ohio; SSAB Swedish Steel Corp., of west suburban Lisle; and Commercial Metals, of Irving, Texas.
Plaintiffs alleged defendants breached antitrust, consumer protection and unfair competition laws.
Judge Shah granted defendants' motion to dismiss the suit, finding plaintiffs' claims were speculative and too far removed.
"Plaintiffs' injury is too remote from the alleged misconduct, their damages too speculative, and defendants' improper conduct not likely to be targeted toward downstream purchasers of mixed material retail products," Shah concluded.
Shah further said plaintiffs did not "acknowledge the role of interceding parties" in the distribution chain and did not link specific products to certain steel mills. In addition, plaintiffs do not "even identify whether the steel in these products came from defendants' steel mills at all," Shah observed.
Shah also said it was "implausible" for plaintiffs to claim the steel makers' motive was to inflate the prices of products, such as cars and ovens, which they do not sell and from which they do not profit. Shah added the alleged scheme would still have been effective for the steel mills, even if intermediaries did not pass on the extra costs to consumers. Further muddying the waters, in Shah's view, was that steel was commingled with other materials to produce the goods in question.
Shah also dismissed the suit for 15 of the 16 plaintiffs, who hopped aboard the suit in 2016, because they joined more than seven years after the statute of limitations expired.
Another class action was launched in 2008 in Chicago federal court against the same eight steel companies, but this one was pursued by 5,500 manufacturers, metal fabricators and others who bought steel directly from defendants. This suit was ironed out with settlements in 2014 and 2016 that amounted to $194 million. ArcelorMittal and U.S. Steel paid out the highest amounts – $90 million and $58 million, respectively.
ArcelorMittal has been defended by the Chicago firm of Mayer Brown LLP.
U.S. Steel has been represented by Pittsburgh-based Reed Smith LLP and the Chicago firm of Neal, Gerber & Eisenberg.
Nucor has been represented by Winston & Strawn, of Chicago, and Arnold & Porter, of Washington, D.C.
Gerdau Ameristeel has been represented by the Chicago firms of Katten, Muchin & Rosenmann, and Eimer Stahl LLP.
Steel Dynamics was defended by McDermott, Will & Emery, of Chicago.
The following firms defended AK Steel: Seyfarth Shaw LLP, of New York; Figliulo & Silverman, of Chicago; Paul, Weiss, Rifkind, Wharton & Garrison, of Washington, D.C.; and Frost Brown Todd, of Cincinnati.
SSAB Swedish Steel was represented by the Chicago firm of Sidley Austin LLP.
Commercial Metals was handled by Thompson Coburn LLP, of St. Louis, and Dechert LLP, of Chicago and Philadelphia.
Supreme Auto was represented by Kirby McInerney LLP, Milberg LLP and Lovell, Stewart, Halebian & Jacobson, all of New York, as well as by Miller Law, of Chicago.