A Chicago federal judge has refused to force Viamedia, a New York-based seller of local cable TV advertising, to turn over documents Comcast believes would shed light on Viamedia's efforts to use third-party litigation funding to fund its antitrust legal claims against Comcast, and to urge the federal government to also take action against the telecom giant.
On June 30, U.S. District Judge Amy J. St. Eve denied Comcast's motion to compel the disclosure of both a group of 51 documents Viamedia may have shared with what the judge described as "prospective litigation firms" and an additional group of more than 400 documents Viamedia turned over the Department of Justice, as part of what Comcast said was Viamedia's "business strategy of exerting litigation pressure on Comcast instead of competing in the marketplace."
"While Viamedia should have taken greater care in preparing its privilege logs, the Court will not impose the harsh sanction of waiver based on Viamedia's conduct, particularly because of the large number of documents involved in this case, and, significantly, because the Court cannot conclude that Defendants were unfairly prejudiced," St. Eve wrote. "Viamedia, however, should exercise greater caution in the future."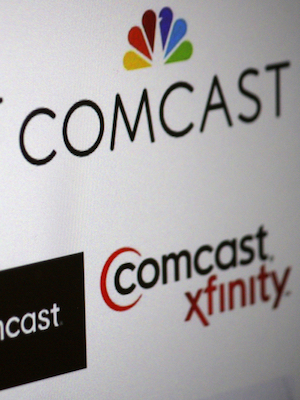 The ruling comes as the latest in the legal row between Comcast and Viamedia over local cable TV advertising in the Chicago and Detroit media markets. The lawsuit landed in federal court in May 2016 when Viamedia sued Comcast, alleging the cable TV and Internet provider violated federal antitrust law through "tying" – a tactic in which the sale of one product is conditioned on the sale of an unrelated product or service – and "exclusive dealing," as well as refusal to deal.
The complaint centered on Comcast's effective control in the Chicago and Detroit markets of so-called "interconnects" – cooperative platforms set up by cable service providers, or "multichannel video program distributors" to allow local advertisers to buy ad time across "particular Designated Media Markets."
While the interconnects were set up by competing cable providers, through the years, Comcast acquired competitors in those markets, granting Comcast effective control of the interconnects, court documents said.
Viamedia has alleged Comcast then moved in 2012 to squeeze out competition for spot advertising on networks in those regions, ordering other cable TV service providers, including Wide Open West (WOW) and RCN Corporation, to only sell spot cable ads through Comcast's wholly owned subsidiary, Comcast Spotlight, cutting Viamedia out of the markets in which the company had operated for a decade.
Viamedia alleged this was an illegal anticompetitive action because Comcast intentionally deprived itself of potentially millions of dollars in fees Viamedia would have otherwise paid to place the ads. From 2002-2012, Viamedia had paid Comcast $23 million for spot advertising on behalf of WOW and RCN.
Viamedia is seeking at least $75 million in damages.
According to Comcast's motion to compel, as it prepared to launch its lawsuit against Comcast, Viamedia may have sought funding help from third-party litigation financing firms – businesses which help plaintiffs pay for lawsuits, typically in exchange for a cut of any damages awarded.
And as part of those discussions, Comcast said Viamedia may have disclosed at least 51 otherwise confidential documents to those financiers and others.
The judge did not identify the firms in her ruling, and any identifying information appears to have been redacted from Comcast's motion to compel made public by the federal court.
Comcast said the disclosure of those documents should mean Viamedia cannot now claim those documents are "privileged."
Similarly, Comcast argued Viamedia had waived its ability to claim privilege over more than 400 documents Viamedia had also provided to the Justice Department as part of Viamedia's effort to spur federal officials to also take action against Comcast.
Viamedia, however, argued all of the documents should remain protected by legal privilege, as the documents were all prepared and shared only in anticipation of legal action, and any prior disclosure was "inadvertent."
St. Eve sided with Viamedia. She declined to address whether the documents should be protected by attorney client privilege, she said the documents should remain protected under the "work product doctrine," which protects from disclosure certain materials prepared in anticipation of filing a lawsuit.
She brushed aside Comcast's arguments that all of the documents sought under the motion to compel related to a lobbying effort to instigate a regulatory action, and not a lawsuit.
"The Court has reviewed … the disputed documents to which Defendants refer, and it appears the attorneys who prepared Viamedia's privilege logs simply made a mistake in indicating that these documents do not relate possible litigation between Viamedia and Defendants," the judge said.
Further, she said, Viamedia's disclosure of the documents to federal authorities did not, in and of itself, mean claims of privilege had been waived. And she said, the privileged documents sought in this instance by Comcast were disclosed inadvertently, and were "produced at a later time after the DOJ had already commenced its investigation."
"The production in this case was large and the Court recognizes that mistakes can take place in such large-scale document productions," St. Eve said.
Comcast is represented in the action by the firms of Jenner & Block, of Chicago, and of Davis, Polk & Wardwell, of New York.
Viamedia is represented by the firm of Mayer Brown, of Chicago.