A federal jury has ordered drugmaker AbbVie to pay $150 million in damages for allegedly falsely marketing the benefits of its Androgel testosterone therapy drug, even though the jury did not hold the company liable for a heart attack suffered by a man taking the drug.
On July 24, the jury in Chicago federal court found in favor of plaintiff Jesse Mitchell in the second of a series of so-called bellwether trials in a massive class action involving thousands of claims against AbbVie and other drugmakers, including Eli Lilly and GlaxoSmithKline. The thousands of complaints have been consolidated by the country's federal courts, and are being heard as a multi-district litigation under U.S. District Court Judge Matthew Kennelly in U.S. District Court for the Northern District of Illinois in Chicago.
The class action lawsuits, dating to 2014, allege the testosterone replacement drugs made by the companies were not only useless, but actually harmful. While the drugs were approved by the U.S. Food and Drug Administration to treat testosterone deficiency, the lawsuits allege the companies also falsely marketed the drugs to treat a variety of other conditions, including diabetes, AIDS, cancer, depression and anxiety. The lawsuits further allege the drugmakers invented a nonexistent condition called "andropause" or "low T," which could be treated by testosterone replacement.
However, plaintiffs claim the drugs are not only ineffective for these off-label uses, but they increase the risk of heart attack, blood clots and stroke.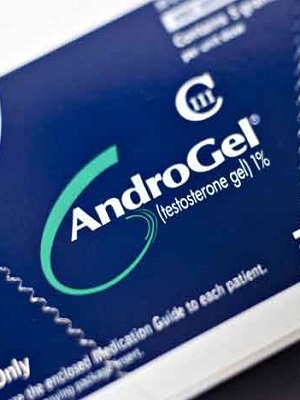 To gauge how juries might respond to the claims, the judge selected eight of the cases to move forward to trial. The first in the series of trials involved only Abbvie, as the maker of Androgel.
The first bellwether trial, in which plaintiff Jeffrey Konrad, claimed Androgel caused a heart attack, ended in a mistrial in June.
The trial over the claims presented by Mitchell, of Oregon, who had similarly asserted the drug had caused his heart attack, proceeded to the jury in July.
After days of testimony and arguments in court, however, the jury refused to find AbbVie responsible for Mitchell's condition. However, the jury did say they believed AbbVie had falsely misrepresented the benefits of its testosterone therapy drug to Mitchell, and ordered the company to pay punitive damages of at least $150 million.
A lawyer for Mitchell did not immediately respond to a request for comment from the Cook County Record on Monday.
In a brief emailed statement, a spokesperson for AbbVie noted "the jury found that Androgel did not cause any damage."
"We expect the punitive damage award will not stand," the statement said.
The verdict came over the protestations of AbbVie, whose lawyers argued in court that they should not be held responsible for Mitchell's condition or use of the drug.
In a motion for judgment filed July 17, for instance, the company noted even a doctor called by Mitchell's attorneys conceded Mitchell was already at high risk for cardiac disease, even without ever taking Androgel, because of his "several cardiac risk factors … including a 34-year smoking history, high blood pressure, high cholesterol, high triglycerides, obesity, a family history of heart disease, and lack of exercise."
The doctor, AbbVie noted, "would have told Mr. Mitchell in 2012 that he was at a risk of a heart attck 'any day' due to his history of cardiac risk factors," AbbVie wrote in its motion for judgment.
AbbVie also argued the jury could not find it had failed to warn of the risks of Androgel under federal rules.
And the company said the evidence demonstrated Mitchell had never heard of Androgel or any of its alleged "false claims" before his doctor prescribed it for him. And, AbbVie argued, Mitchell's doctor "relied on his own training, experience and medical judgment, rather than anything said by (AbbVie), when making treatment decisions for Mr. Mitchell."
"Finally, any suggestion that (Mitchell's doctor) was somehow deceived or misled by (AbbVie's) risk information is belied by the fact that he warned Mr. Mitchell of the potential cardiovascular risks," AbbVie argued in its motion for judgment.
Court records indicate the judge took AbbVie's motion "under advisement" on Friday, July 21.
Mitchell was represented by attorneys with the firms of Levin Papantonio Thomas Mitchell Rafferty & Proctor, of Pensacola, Fla.; the Alvarez Law Firm, of Coral Gables, Fla.; Seeger Weiss, of New York; Goldberg & Osborne, of Tucson, Ariz.; Heard Robins Cloud, of Santa Monica, Calif.; and Douglas & London, of New York.
AbbVie was defended by the firm of Dechert LLP, of Princeton, N.J.