The operators of a luxury high-rise apartment building in Chicago's Theater District have slapped Airbnb with a lawsuit, arguing the online lister of short-term or vacation rentals should be made to pay for disrupting life in the building, as tenants continue to list rentals in that building, even though their leases and building rules prohibit them from renting their apartments through such services.
On July 21, MDA City Apartments LLC filed suit in Cook County Circuit Court against Airbnb and another company, identified as TempHomes Chicago, which the complaint said specializes in providing "temporary living and corporate housing." The complaint indicates TempHomes holds several units in MDA City's building, which it lists through Airbnb.
"MDA has incurred significant costs as a result of its need to increase security to prevent unauthorized access to the property by guest of Airbnb, TempHomes, and other short-term vacation rental companies; increase security to ensure the safety of its tenants from unfamiliar and unscreened guests; repair damage to the property caused by guests of Airbnb, TempHomes and other short-term vacation rental companies; constantly screen Airbnb's website and TempHomes' website for listings of units at the property in violation of leases; to evict tenants who violate their leases by listing his or her units using short-term vacation rental companies; etc.," MDA said in its complaint.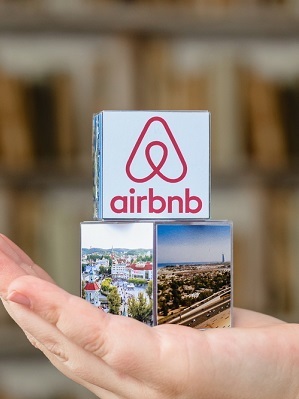 "Moreover, a substantial number of non-renewals of units at the property, as well as vacant units going unfilled, can be tied directly to the pervasive problem caused by short-term vacation rental companies such as Airbnb and TempHomes."
MDA City Apartments is located in what its website describes as a "historic building" at 63 E. Lake St. , at the corner of E. Lake Street and N. Wabash Avenue, "steps from the Chicago River and the famous Theater District," in Chicago's North Loop.
According to an entry on Apartments.com, the building, which was renovated in 2003, offers 190 apartments, ranging from studios to three bedrooms. The units are listed for rent from about $1,600-$3,600 per month. It is managed by national rental property management company, VillageGreen, which has a regional office in Chicago.
The complaint comes as part of a wave of resistance among property managers, building owners, cities, and neighboring tenants and owners, among others, to the so-called online "home-sharing" business model, represented most prominently by Airbnb, that has spread throughout Chicago and other locations nationwide.
Most recently, that resistance manifested in Chicago with the passage of a new city ordinance more strictly regulating city residents who offer their homes and apartments for rent to vacationers and others through Airbnb and similar platforms, such as VRBO, FlipKey and others. That ordinance has been challenged by a group of so-called "hosts," who rent their properties through Airbnb and similar sites, and who believe the city ordinance is overly restrictive and infringes upon their constitutional property and association rights.
Building owners and managers in many instances have also taken a dim view of such short-term vacation rentals, moving to forbid tenants and condo owners, for instance, from renting their units through such websites. In its complaint, for instance, MDA City Apartments specifically noted its efforts to locate such tenants, and then evict them for violating the terms of their lease.
However, according to Cook County court records, it appears this may be the first such legal action filed against Airbnb directly by the owners of an apartment building for simply allowing the tenants to list their apartments for rent to those visiting the city.
According to the complaint, MDA City said the lawsuit comes after repeated attempts to persuade Airbnb and TempHomes to take down listings for its building, and bar any future listings, essentially were ignored.
The complaint argues Airbnb and TempHomes were aware of MDA City's policies and rules prohibiting such short-term rentals in its building, yet refused to do anything to stop tenants from listing properties on the sites.
"By their conduct, Airbnb and TempHomes have provided substantial assistant to guests in committing trespass to land by facilitating, brokering, and profiting from the unlawful subletting and/or rental of units at the property," the complaint said.
The complaint requests the court order Airbnb to pay unspecified damages and attorney fees. The complaint also asks the court to award MDA City Apartments possession of the units held by TempHomes.
MDA City Apartments is represented in the action by the law firm of Cozen O'Connor, of Chicago.