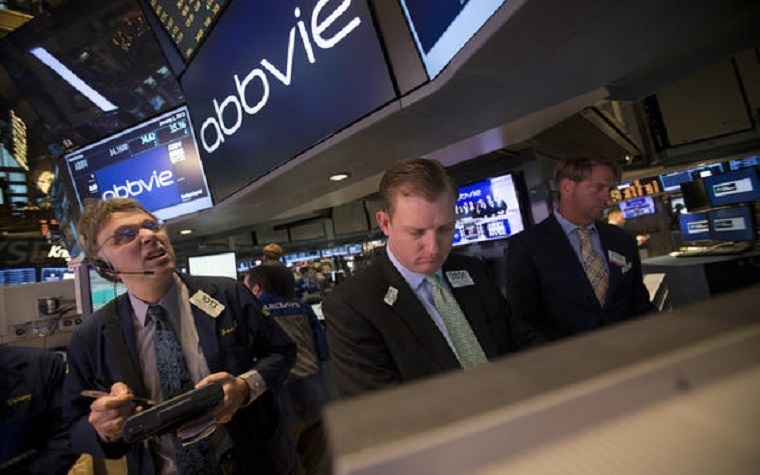 Drugmaker Abbvie has suffered another big loss in court, as a Chicago federal jury has ordered the North Chicago-based pharmaceutical company to pay out $140 million to another man who claimed he had suffered a heart attack as a result of taking Abbvie's testosterone therapy drug, Androgel.
On Thursday, Oct. 5, the jury, on the same day it had begun deliberations, handed down the verdict with the big award to plaintiff Jeffrey Konrad.
In all, the jury said Konrad should receive only $140,000 in compensatory damages, but further ordered Abbvie to kick in an additional $140 million in punitive damages.
While finding Abbvie could not be held responsible for Konrad's heart attack, the jury still said it believed Abbvie yet had intentionally misrepresented and concealed Androgel's effects when marketing the drug.
The verdict came at the close of another in a series of so-called bellwether trials amid a massive class action involving thousands of claims against Abbvie and other drugmakers, including Eli Lilly and GlaxoSmithKline. The thousands of complaints have been consolidated in federal court, and have been assigned as a multi-district litigation under U.S. District Judge Matthew Kennelly in Chicago.
The class action lawsuits, dating to 2014, allege the testosterone replacement drugs made by the companies were not only useless, but actually harmful. While the drugs were approved by the U.S. Food and Drug Administration to treat testosterone deficiency, the lawsuits allege the companies also falsely marketed the drugs to treat a variety of other conditions, including diabetes, AIDS, cancer, depression and anxiety. The lawsuits further allege the drugmakers invented a nonexistent condition called "andropause" or "low T," – also referred to as "age-related hypogonadism" - which could be treated by testosterone replacement.
However, plaintiffs claim the drugs are not only ineffective for these off-label uses, but they increase the risk of heart attack, blood clots and stroke.
To gauge how juries might respond to the claims, the judge selected eight of the cases to move forward to trial. The first in the series of trials involved only Abbvie, as the maker of Androgel.
This spring, Konrad's claims had been the first to go to a jury. But those proceedings in a mistrial in June.
The judge, however, quickly empaneled a new jury, and the case returned to trial in mid-September, continuing nearly three weeks before the jury returned its verdict.
The judgment for Konrad largely mirrored a jury's verdict in the second Androgel bellwether trial. In July, a jury also found Abbvie not responsible for a heart attack suffered by plaintiff Jesse Mitchell, but still ordered the company to pay $150 million in punitive damages for alleged misleading marketing associated with the drug.
In the Konrad case, the verdict also came despite Androgel's contentions Konrad had not established a link between Androgel and his heart attack, nor did he prove neither he nor the doctor who prescribed him Androgel had been misled by advertisements for the drug, the company said.
"Plaintiff admits he never read the Androgel labeling that he received, that he never heard of Androgel when it was prescribed for him, and he does not recall ever being told he had age-related hypogonadism," Abbvie's lawyers wrote in a motion for judgment filed on Oct. 3.
Further, the company contended it should not be held responsible for language in warning labels and advertisements which had been reviewed and approved by the FDA.
And, Abbvie asserted, any award of punitive damages under Illinois law should be forbidden under Illinois law, since Konrad's lawyers had not established a link between Konrad's heart attack and his use of Androgel, and evidence indicated a debate still existed over the cardiovascular risks of taking Androgel.
"The very existence of such a debate forecloses a finding that Abbvie flagrantly disregarded a known risk likely to cause injury," Abbvie wrote in its Oct. 3 motion.
The company had asserted similar claims in a motion it filed days before the jury returned its verdict and $150 million damages award in the Mitchell trial, too.
Seeking to undo the damages award in that case, Abbvie in August petitioned Kennelly to either vacate the Mitchell judgment and order a new trial. Kennelly has yet to rule on that request, according to federal court records.
Representing the plaintiffs in these bellwether trials are attorneys with the firms of Seeger Weiss LLP, of New York; Simmons Hanly Conroy, of Alton; Meyers & Flowers LLC, of St. Charles; Heard Robins Cloud LLP, of Santa Monica, Calif.; Beasley, Allen, Crow, Methvin, Portis & Miles, P.C., of Montgomery, Ala.; and Levin, Papantonio, Thomas, Mitchell, Rafferty & Proctor P.A., of Pensacola, Fla.
Abbvie is defended by the firms of Dechert LLP, of Chicago and Philadelphia, and Paul, Weiss, Rifkind, Wharton & Garrison LLP, of New York.