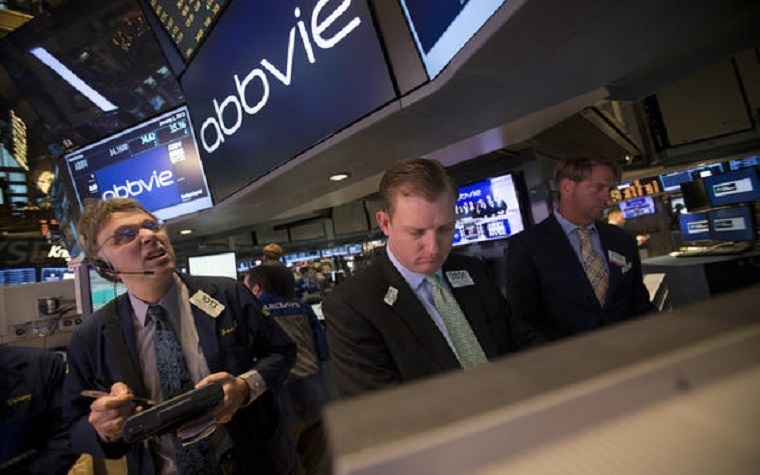 A group of investor funds will be allowed to continue their fraudulent concealment lawsuit against drugmaker AbbVie in Cook County Circuit Court after a federal judge in Chicago shot down AbbVie's attempt to relocate to federal jurisdiction the lawsuit over AbbVie's cancelled acquisition of an Irish pharmaceutical company.
The lawsuit centered on North Chicago-based AbbVie's ill-fated merger with Ireland-based Shire PLC. After the merger was announced in 2014, several hedge funds, identified in the lawsuit as Elliott International L.P., the Liverpool Partnership, Tyrus Capital Event Master Fund Limited and Tyrus Capital Opportunities Master Funds, increased investments in Shire. But when AbbVie pulled the plug on the transaction in the wake of federal regulatory changes that would have eliminated tax benefits of the merger, those investment houses said they lost money, prompting them to sue.
The hedge funds initially brought their claim in Cook County in June 2016, saying AbbVie misrepresented and concealed material facts, and absent that conduct, they would not have further invested in Shire, which saw stock prices drop almost 30 percent in two days after the deal fell through. AbbVie sought to remove the case to federal court, but in an opinion issued Oct. 12, federal Judge Robert M. Dow Jr. remanded the matter to circuit court.
The plaintiffs alleged AbbVie said it "studied this transaction very, very carefully" including the potential regulatory change, but should have disclosed it didn't evaluate whether it would complete the merger if the government reduced or eliminated its tax inversion benefits, "especially in light of the controversy surrounding tax inversions and the wide expectation that the government might take such action."
The Cook County court rejected AbbVie's motion to dismiss the complaint. At that stage, AbbVie said the hedge funds failed to sufficiently plead AbbVie's duty to disclose the information in question. The plaintiffs, however, said both Illinois and federal law imposed such an obligation, and noted federal securities law compels truthful statements, including provisions for misleading by omission.
After discovery began, AbbVie sought to move the case to federal court, saying it had become clear the hedge funds would need to prove a violation of federal law to prevail on the fraudulent concealment claim, because they said they had not been parties to any business dealings or transactions with AbbVie outside the Shire merger and "aside from transactions in AbbVie securities." That distinction, AbbVie argued, negated the validity of any state law claims and made the matter suitable only for federal court.
In their complaint, the hedge funds said AbbVie "solicited Shire investor support for the merger and encouraged shareholders to communicate support for the transaction to the Shire board," according to Dow, finding that sufficient to consider the alleged violation of state law.
"It is worth noting that the Cook County Circuit Court already determined that Plaintiffs' allegations of fraudulent concealment were sufficient to survive a motion to dismiss," Dow wrote.
AbbVie said the investors didn't cite a comparable Illinois fraudulent concealment case, but Judge Dow noted AbbVie "bears the burden of establishing federal jurisdiction" and failed to "cite any case law limiting fraudulent concealment claims to these discrete types of business relationships."
Dow also disagreed with AbbVie's argument a fraudulent concealment claim can't be based on anticipated transactions. He said such a claim can succeed if a "plaintiff can prove all of the elements of the claim, including 'circumstances that created a duty to speak,' reliance and resulting damages."
AbbVie is represented in the action by attorneys with the firm of Jones Day, of Chicago.
The plaintiffs are represented by the firm of Bartlit Beck Herman Palenchar & Scott, of Chicago.