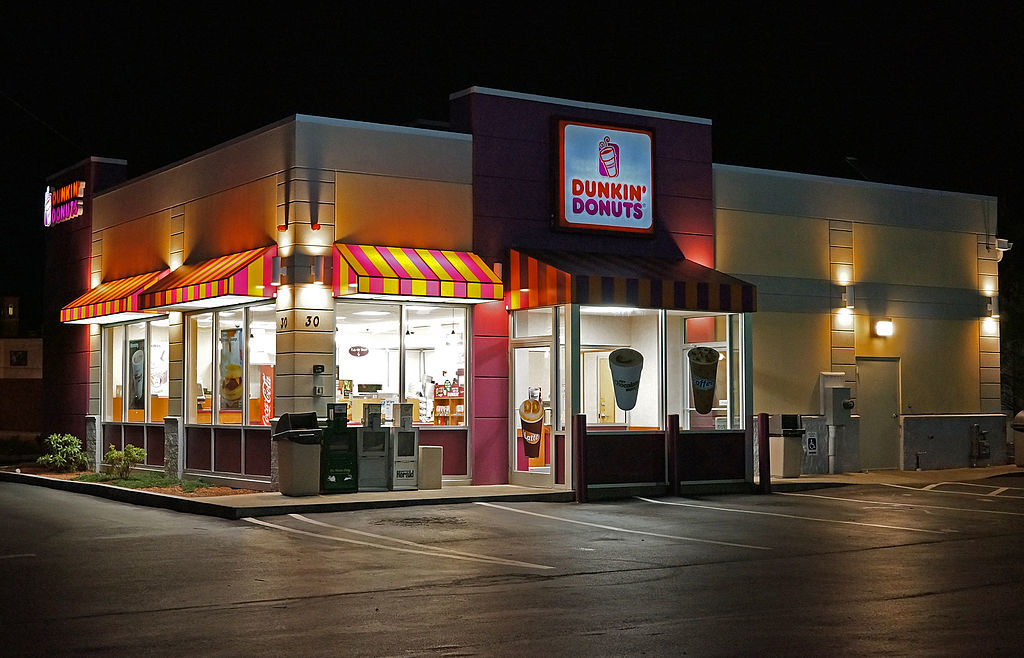 | By Anthony92931 (Own work) [CC BY-SA 3.0 (https://creativecommons.org/licenses/by-sa/3.0)], via Wikimedia Commons
CHICAGO — Dunkin' Donuts will need to try again to poke holes in a lawsuit claiming it deceived consumers about how much blueberry is actually in a blueberry donut, after a Chicago federal judge refused to toss the class action.
In the complaint, plaintiff Bartosz Grabowski alleged Dunkin' led consumers to believe its products labeled as "blueberry" contain real blueberries.
The chain offers products for sale and displays placards with the names of products containing the word "blueberry." However, the products allegedly contain no actual blueberries, the lawsuit said. Instead, they contain fake blueberries or blueberry pieces meant to imitate actual blueberries.
According to court documents, Grabowski allegedly bought a blueberry glazed donut under the impression that it contained real blueberries.
In his complaint, Grabowski alleges Dunkin' Donuts violated the Illinois Consumer Fraud and Deceptive Business Practices Act (ICFA). He also made a common law fraud claim, an intentional misrepresentation claim, a negligent misrepresentation claim, a breach of contract claim and an unjust enrichment claim.
Dunkin' Donuts responded with a motion to dismiss all claims, arguing Grabowski failed to provide sufficient facts to make a valid ICFA claim. It maintains a reasonable consumer would only assume the word "blueberry" means the product tastes like blueberries, not that it actually contains real blueberries.
Dunkin' also asked the court to apply "a common sense standard" regarding what is reasonable for a consumer to understand.
In December, U.S. District Judge Samuel Der-Yeghiayan, however, sided for now with Grabowski, allowing him to continue to roll out his suit.
"Based on the pleadings, a reasonable consumer could in fact conclude that a product identified with the word 'blueberry' contained blueberries," Der-Yeghiayan wrote. "Contrary to Dunkin's arguments, common sense does not dictate that a reasonable consumer would conclude under all circumstances only that the use of the term 'blueberry' in the product name meant that the product was a blueberry-flavored product."
Dunkin' Dunuts also argued that Grabowski's fraud and unjust enrichment claims come up short for the same reasons as the ICFA claim, but Der-Yeghiayan was not swayed by their argument.
However, Grabowski's claim of deception doesn't hinge solely on the use of the word "blueberry." He maintains that the donut he purchased contained fake blueberries formed to imitate actual blueberries. These products, he maintains, also are sold side-by-side with other products that do contain real blueberries, which could lead to additional confusion.
The chain maintained Grabowski didn't make a real breach of contract claim.
At later stages in the proceedings, the plaintiffs "will need to point to sufficient evidence to support his breach of contract claim," Der-Yeghiayan wrote.
But for now, the judge said, the plaintiffs can continue with their breach claims.
Ultimately, Dunkin' Donuts also maintained that Grabowski didn't provide facts to support his assertion that he was harmed, noting he alleged he wouldn't have bought the donut if he knew it wasn't made with real blueberries and he was seeking to be compensated for the money he paid for the donut that he ate.
Dunkin' Donuts argued that unless Grabowski would show that the donut was worthless, to allow him or anyone he might be ajoined in a class and then receive a full refund "would result in a windfall."
The judge, however, said that argument was better left for later stages in the case.
"Such arguments do not support a notion that Grabowski lacks any cognizable harm to support a claim in this case," Der-Yeghiayan countered. "It is premature at the pleadings stage to challenge Grabowski's calculation of damages."
Grabowski is represented in the action by attorneys with the Law Office of James X. Bormes P.C., of Chicago, and Law Offices of Thomas Ryan, also of Chicago.
Dunkin' Donuts is defended by the firms of Kaye Scholer, of Chicago, and Arnold & Porter LLP, of Los Angeles.