A Chicago federal judge is closing the door on an ex-Cook County government staffer's attempt to sue powerful Cook County politicians, saying he can't demonstrate the county violated his constitutional rights by firing him after he helped expose alleged political corruption in Elmwood Park, and then campaigned to take the county board seat held by Peter Silvestri, Elmwood Park's mayor.
On Feb. 10, U.S. District Judge Edmond E. Chang dismissed the lawsuit filed by Frank McPartlin, who, in 2015, was fired from his post as special assistant in the Cook County Bureau of Administration.
McPartlin sued in 2017, alleging the county violated his federal free speech rights when they fired him, and illegally fired him, in violation of laws protecting whistleblowers, for his role in helping an investigation conducted by the Better Government Association and Fox News into alleged misconduct benefiting Silvestri in Elmwood Park, and then seeking to unseat Silvestri from the Cook County Board of Commissioners.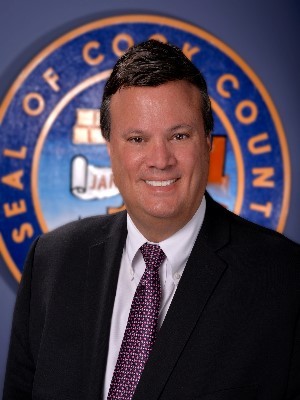 Peter Silvestri | Cook County Board of Commissioners
According to the court documents, McPartlin had worked intermittently for the county in various positions, primarily since 2008, when he was hired as a coordinator in the Office of the Chief Administrative Officer. He was hired in his most recent county post in March 2011.
According to the judge's decision, McPartlin "was active in local politics" for the duration of his time employed by the county, including devoting time to help manage local campaigns. In April 2011, McPartlin became director of the Elmwood Park Neighborhood Civic Organization, and soon after, assisted in some way with an investigation launched of Elmwood Park's leadership, including Village President Silvestri, by the BGA and Fox.
Specifically, the court documents noted, the BGA and Fox published articles asserting village workers were paid with village taxpayer funds for work performed on Silvestri's home; that Elmwood Park auxiliary police officers "performed political campaign work for Silvestri while being paid by the village (and as a condition of employment);" and that people from outside Elmwood Park, but "with ties to Silvestri … voted in village elections."
Following publication of those reports, the court documents assert Silvestri and Cook County Board President Toni Preckwinkle demanded McPartlin resign as director of EPNCO, which McPartlin asserted had played an unspecified role in the investigations and resulting reports.
In December 2013, however, McPartlin announced his candidacy for Silvestri's county board seat, which. McPartlin claimed, led Silvestri to directly threaten his employment, unless he withdrew. McPartlin did not withdraw, secured the Democratic Party's nomination in that race, and was defeated in the 2014 general election by Silvestri, a Republican.
Two months later, McPartlin "was fired without any explanation."
McPartlin sued nearly two years later, asserting the county had fired him for his political activity, which he argued was forbidden by law and the U.S. Constitution's guarantees.
The county argued it could fire McPartlin because his position was "a policymaking role for which politics may lawfully be taken into account," and so was exempted from such protections under the so-called "Shakman decree," a court order issued decades ago which forbids governments from firing people from non-policymaking positions simply over politics.
In this case, Judge Chang sided with the county, saying McPartlin's job was already included on a list of "Shakman-exempt positions" at the county.
"After McPartlin announced his candidacy against his boss, Silvestri was entitled to take into account McPartlin's political opposition to Silvestri," Judge Chang wrote. "And Preckwinkle endorsed Silvestri in the race, so she too could take into account McPartlin's political opposition - even though she and McPartlin belonged to the same political party. Whether it was practicing good government or not, the First Amendment did not bar either Preckwinkle or McPartlin to remove a policymaking employee like McPartlin based on his political opposition to them."
The judge also rejected McPartlin's assertions he should have been protected by whistleblower laws, noting his termination came four years after the first BGA and Fox News report discussing the alleged misconduct involving Silvestri, and neither the reports themselves nor McPartlin revealed evidence indicating the extent of the EPNCO's and McPartlin's involvement.
"On top of the time and factual gaps between the investigation and the firing, there is the glaring intervening event that McPartlin ran against Silvestri in November 2014, a few months before the January 2015 firing," Judge Change said. "On this complaint, no plausible claim is alleged connecting the purported whistleblowing to the firing."
The judge gave McPartlin until March 1 to file an amended complaint to "fix the deficiencies" in his lawsuit, but said he was "skeptical that McPartlin will be able to cure the problems."
McPartlin is represented by attorney Cass Thomas Casper, of Talon Law LLC, of Chicago.
The county, Silvestri and Preckwinkle are defended by the firm of Laner Muchin Ltd., of Chicago, and the Cook County State's Attorney's Office.