An Illinois appellate panel has refused to overturn the state's decision to retroactively revoke a Cook County man's nursing license, because of a 40-year-old attempted murder conviction which pre-dates his nursing career, saying a 2012 law clearly, if "harshly," demands revocation.
The Feb. 20 ruling was authored by Justice Mary Mikva, with concurrence from Justices Daniel Pierce and Sheldon Harris. The decision favored the Illinois Department of Financial and Professional Regulation in an action brought by Batu Shakari.
Shakari was convicted in 1975 of attempted murder, according to records. He was 21 years old and was then known as David Beverly. After his release from prison, he became a licensed practical nurse in 1982 and a registered nurse in 1989. The department knew of his conviction, but approved his licenses. The department continued to renew his license until 2015. Shakari was never subjected to disciplinary action regarding his licenses, nor convicted of any other crimes.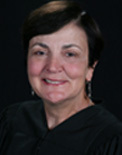 Justice Mary Mikva | Illinoiscourts.gov
On July 31, 2012, a state law took effect that called for revocation, without a hearing, of the license of any health care workers convicted of a forcible felony. Shakari's license was again renewed in 2014, but the department moved to revoke his license in 2015, pointing to his attempted murder conviction.
The department based the revocation on the 2014 Illinois Supreme Court ruling in Hayashi v. Illinois Department of Financial and Professional Regulation, saying Shakari's conviction, even though it took place before he became a nurse, was grounds for revocation, in the department's view.
The Hayashi case involved two doctors and a chiropractor convicted, before the new revocation law, of misconduct involving patients, whose licenses were revoked after the law came into play.
Shakari unsuccessfully contested the department's decision at an administrative hearing. He then went to Cook County Circuit Court, where he declared the matter "cried out" for a fair resolution.
Shakari argued that, unlike the plaintiffs in the Hayashi case, he was convicted before becoming a health care worker and, obviously, his conviction had nothing to do with patient care. Further, Shakari noted the department was aware of his conviction when granting and renewing his license over the years, including its renewal after the new law went into effect.
The department countered the 2014 license renewal was a mistake, and a mistake should not serve as "some sort of precedent that would prohibit them from following the law."
In January 2017, Cook County Judge Franklin Valderrama sympathized with Shakari, but refused to override the department, saying the law applied to anyone with a forcible felony conviction, regardless of the conviction date.
Shakari appealed and again found sympathy, but no legal traction.
Justice Mikva concluded the law's wording requires revocation for any worker who "has been convicted," not "is convicted," of a forcible felony, which "clearly indicates the legislative intent to subject persons to the Act without regard to the date of their convictions."
Further, Mikva said the law draws no distinction whether or not the forcible felony was committed against a patient.
Mikva also cut down Shakari's contention the department was obliged to follow its 2014 renewal, saying that renewal was an "unauthorized act."
Mikva said Shakari's concern over the "harshness" of the law was "well taken," but pointed out Shakari could benefit from a 2017 amendment to the law. The change permits workers, whose convictions were not for sex crimes, to seek restoration of their licenses, if more than five years have elapsed since the convictions or more than three years since their release from confinement for the crime.
Shakari had voiced reservation about seeking such restoration, because he feared his revocation, even if rescinded, would remain on his public record, according to court papers. However, Mikva noted Shakari could have the revocation sealed from public view, beginning three years after his license is restored, if he has no more disciplinary incidents or pending investigations.
Shakari acted as his own attorney when contesting his revocation at the administrative level. After he took the matter to court, he has been represented by Crick Walanka Law Group and Weston, Gomberg & Reese, both of Chicago.
The Illinois Department of Financial and Professional Regulation has been represented by the Illinois Attorney General's Office.