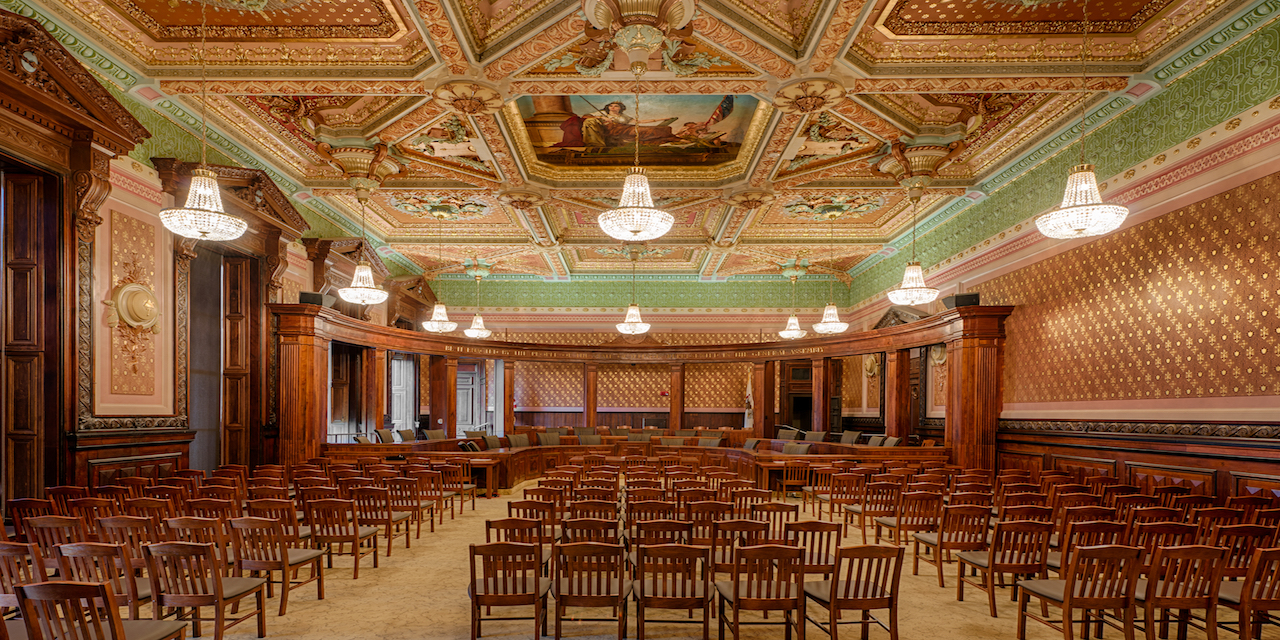 The Illinois Supreme Court has disbarred four lawyers licensed to practice in Illinois, and suspended nine others, including lawyers who were convicted of growing marijuana with the intent to deliver, convicted of defrauding a bank amid foreclosure proceedings, and have been charged with possessing child pornography.
The court also placed on disability inactive status a former Cook County judge who had been permanently removed from the bench after she asserted she has Alzheimer's disease, which she blamed for her decision to allow a law clerk who was, herself, running for a judgeship to preside over cases from the bench.
On March 16, the Illinois Attorney Registration and Disciplinary Commission announced the latest round of disciplinary actions taken by the state's high court against attorneys accused of professional or criminal misconduct.
According to the release, lawyer Timothy J. Fitzgerald, of Chicago, was suspended on an interim basis and until further order of the court, after he was convicted in Berrien County, Mich., of felonies for illegally growing 200 marijuana plants, with the intent of selling the harvest. He had also been charged with maintaining a drug house, a misdemeanor, in Sawyer, Mich.
Fitzgerald, 72 at the time of his arrest in mid-2017, has been licensed to practice law in Illinois since 1991.
Also suspended was attorney Robert J. Schyler of Portage, Ind., who was convicted in federal court in 2017 on charges of bank fraud and wire fraud. According to a release from the Chicago U.S. Attorney's Office, Schyler participated in a scheme to defraud Amcore Bank to "prevent foreclosure on a nearly $2 million parcel of land" in west suburban Aurora.
Prosecutors said they presented evidence showing Schyler had "provided false and fraudulent documents to an elderly couple and Amcore Bank" after his alleged co-conspirators, identified as Kevin LeBeau and Brian Bodie, who were each also convicted in connection with the case, fell behind on payments on a $1.9 million loan on a 10-acre piece of land in 2005.
Prosecutors said Schyler acted as LeBeau and Bodie's attorney during the foreclosure action, "obtained $300,000 from an elderly retired couple by providing them with fake documents that made it seem like they were making a safe investment in the redevelopment and that it would be secured by a trust." He then "furnished fraudulent and fabricated documents to the bank, including forged documents that made it appear that investors had committed approximately $1.5 million to the redevelopment of the property." The foreclosure still occurred.
In the attorney disciplinary action, Schyler was suspended on an interim basis and until further order of the court.
And the Illinois Supreme Court also suspended on an interim basis and until further order of the court attorney Ralph F. Tellefsen III, of Elmhurst, who has been charged with possession of child pornography.
At the same time, the court also disbarred four attorneys, including:
John F. Dziedziak, of Chicago. According to the Illinois ARDC, Dziedziak allegedly "misappropriated $20,000 in settlement proceeds from three separate client matters, neglected two client matters, failed to keep a client informed of the status of their case, engaged in the unauthorized practice of law … and failed to participate in the disciplinary proceeding";
Syed Mansoor Khan, of Schaumburg. According to the Illinois ARDC, Khan allegedly "neglected two different client civil matters, failed to communicate with his clients and misappropriated $1,500 in client funds";
Joi Lyons, of Chicago.. According to the Illinois ARDC, Lyons, who had only been licensed to practice law in Illinois since 2015, "neglected 10 different client matters, made misrepresentations to clients about the status of their matters, failed to refund unearned fees and failed to cooperate in the disciplinary proceeding"; and
Delbert K. Pruitt, of Paducah, Ky. According to the Illinois ARDC, Pruitt failed to take any further action on a case after filing suit on his client's behalf "in a personal injury matter on the final day of a two-year limitations period." He then allegedly "ceased returning the client's calls." The ARDC alleged Pruitt pleaded guilty in Kentucky on a charge of driving under the influence of alcohol.
In addition to the disbarments, the Illinois Supreme Court also suspended six other lawyers, including:
Jarrett S. Niesse, of Barrington. According to the ARDC, Niesse, who served as chief financial officer at Precious Metal Refinery Services, accessed the email of an employee who was suing PRMS, without that employee's knowledge or authorization, and then used information gleaned from those emails against the employee in legal proceedings. Niesse later falsely told the court he had inadvertently accessed the employee's emails. The ARDC noted the trial court "imposed a default judgment as a sanction against PMRS" because of Niesse's actions. Niesse was suspended 6 months;
Brian Fornek, of St. Charles, 1 year and until further order of the court, for allegedly misappropriating $9,244 of client funds and failing to pay related medical liens;
Stephen T. Fieweger, of Davenport, Iowa, 6 months;
Ronald Boorstein, of Highland Park, 90 days;
John C. Carver, of Bushnell, Fla., 10 days, plus two years probation;
Samuel Vazanellis, of Highland, Ind., suspended until reinstated by Indiana Supreme Court. The ARDC said Vazanellis, while not authorized to practice law in Illinois, "represented clients in at least 16 different court actions in Illinois, including 14 criminal cases and two civil litigation matters."
Also amid the disciplinary announcements, the Illinois Supreme Court said it had placed on "Disability Inactive Status" Valarie Turner. In December, the Illinois Courts Commission ordered Turner's removal and permanent retirement from the bench in Cook County Circuit Court, declaring she was "mentally unable to perform her duties as judge" after Turner informed the commission she had been diagnosed with Alzheimer's disease.
Prior to that announcement, Turner, who presided at the courthouse in suburban Markham, had been accused of allowing former law clerk Rhonda Crawford to hear cases from the bench after Crawford had secured the Democratic nomination for a judgeship in Cook County's First Judicial Subcircuit.
Turner allegedly later told her supervising judge she had allowed Crawford to preside because "she thought (Crawford) was a judge."
Crawford was fired and later barred by the Illinois Supreme Court from being sworn as a judge, even though she had won election to the Cook County bench.