A former Cook County staffer, who last month lost a federal suit in which he alleged he was fired in retaliation for exposing corruption in Elmwood Park and then running for the county board seat held by Elmwood Park's onetime Village President Peter Silvestri, is now attempting to press the same claims in Cook County Circuit Court.
Frank L. McPartlin filed a federal suit in 2017 against Cook County, County Board President Toni Preckwinkle and Board Commissioner Peter Silvestri. McPartlin alleged he was illegally fired in 2015 as a special assistant in the Cook County Bureau of Administration, because of his political activities. The job paid $85,000 per year, plus benefits. Defendants denied wrongdoing.
On Feb. 10, U.S. District Judge Edmond Chang dismissed the federal counts of the suit, finding defendants did not breach McPartlin's free speech. Chang reasoned defendants were within their rights to fire McPartlin, because McPartlin's post, as defendants argued, was a "policy making role for which politics may lawfully be taken into account."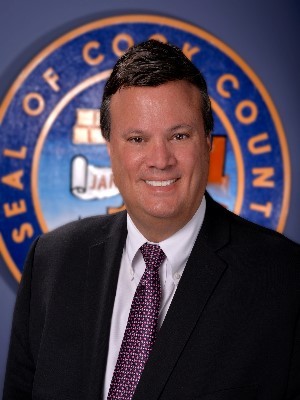 Peter Silvestri
Chang also concluded there was no breach of laws protecting whistleblowers, because McPartlin was not booted until four years after the alleged whistleblowing.
Chang didn't rule on the state counts, instead relinquishing jurisdiction over them, telling McPartlin he could pursue the state counts in circuit court. On April 6, McPartlin followed that suggestion and lodged a suit solely on that footing in Cook County Circuit Court.
McPartlin went over the same ground he did in the federal suit, saying the case began in 2011, when he became director of the Elmwood Park Neighborhood Civic Organization and helped the Better Government Association and Fox News investigate Elmwood Park's leadership, which then included Silvestri as village president.
Silvestri, who is Republican, was village president from 1989 to 2013. He has been a Cook County Board commissioner since 1994 for the Ninth District, which covers northwest Cook County, including Elmwood Park.
Purportedly with McPartlin's aid, the BGA and Fox reported village workers were paid with taxpayer funds for work done on Silvestri's home and village auxiliary police officers "performed political campaign work for Silvestri while being paid by the village (and as a condition of employment.)" The reports further said people from outside Elmwood Park, but "with ties to Silvestri … voted in village elections."
McPartlin said he aggravated his standing with Silvestri, when, as a Democrat, he ran against Silvestri in the 2014 general election. McPartlin lost, but alleged, nonetheless, he was kicked out of his job two months later in retaliation for the electoral challenge and his anti-corruption work. McPartlin claims Silvestri then induced Preckwinkle to approve McPartlin's firing, by supporting the Democrat Preckwinkle's agenda.
McPartlin said he was fired despite a record clean of "performance issues" that justified his termination, and his position continued to be funded after he was given the pink slip.
McPartlin wants to be reinstated to his job and given back pay and benefits, as well as front pay. He also seeks at least $150,000 in damages.
McPartlin is again represented by attorney Cass Casper, of Talon Law LLC, of Chicago.
Circuit Judge Celia Gamrath is presiding over the case.
Cook County, Silvestri and Preckwinkle were defended in the federal action by the Chicago firm of Laner Muchin Ltd. and the Cook County State's Attorney's Office. No lawyers have yet filed appearances for defendants in the circuit court suit.