Asking a federal judge to dismiss it from a lawsuit brought by a former campaign worker against several political organizations connected to Illinois House Speaker Michael Madigan, the Democratic Party of Illinois said it isn't liable for sexual harassment the woman said she suffered at the hands of a Madigan aide.
On March 21, Alaina Hampton, a former campaign worker for Speaker Madigan, filed suit in Chicago federal court against the state Democratic Party and Madigan's various campaign organizations, accusing the speaker's political groups of violating her civil rights by doing too little to rein in Kevin Quinn, whom Hampton has accused of a long-running stream of sexual harassment stretching over nearly a year, while Quinn served as her supervisor within Madigan's organization.
Hampton publicly discussed her experiences with the Chicago Tribune on Feb. 11, 2018. Kevin Quinn was fired the following day. Her lawsuit accused defendants of effectively freezing her out of the Madigan campaign organization, denying her opportunity to continue working on affiliated campaigns, which she said was in apparent retaliation for her attempt to seek corrective action over the alleged harassment.
But on June 5, the Illinois Democratic Party filed a motion seeking to be dismissed from the complaint. In a memorandum in support of that moton, the party said Hampton's first amended complaint is a Title VII retaliation claim, which it says "can only be asserted by an employee against her employer. And since the complaint doesn't establish Hampton was a (Democratic Party) employee during the relevant time period, the party cannot be subject to a retaliatory termination allegation.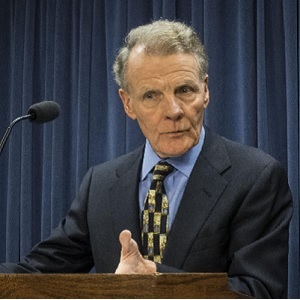 Illinois House Speaker Michael J. Madigan
According to her lawsuit, Hampton began working within Madigan's various political organizations immediately after graduating college in mid-2012. Through March 2016, the lawsuit noted, she "worked on, managed and ran" campaigns for various Madigan allies, including state representatives Sue Scherer, Kathleen Willis and, most recently, Juliana Stratton, who is now running for Illinois lieutenant governor alongside Democratic gubernatorial nominee J.B. Pritzker.
And while the state Democratic Party noted Hampton's allegations about Madigan's control over "the accounts of each campaign fundraising entity," it said she offered only "vague allegations" that she had a formal employment relationship with the party.
Among the details Hampton's complaint lacks, according to the DPI motion, are facts showing the party "controlled her working conditions, assignments, evaluations or performance … when she was hired, who hired her or when she left her purported employment with DPI. She also does not allege what work she performed for DPI, how long she worked for DPI, who at DPI supervised her, what materials or equipment DPI provided her with or whether she worked for DPI exclusively during her purported employment."
Hampton's complaint included W-2 paperwork issued by other defendants, Democratic Majority and Friends of Michael J. Madigan, but included no such information connected to the DPI, nor did she cite any wage or salary information on the part of DPI.
"At best," the DPI asserted, Hampton "vaguely asserts that she worked as a political staffer and campaign manager over a five-year period, but she never specifies which defendants she contends she worked for during that five-year period."
The party also took aim at Hampton's potential use of the joint employment theory to establish a basis for her Title VII claim, saying such a strategy can only be used if a plaintiff alleges two employers exerted significant control over the same employees. As her "allegations hinge on her speculation that her wages could have been paid from the accounts of different defendants under the direction of Speaker Madigan," the DPI said, "these allegations fail to establish a joint employment relationship."
Madigan serves as chairman of the Illinois Democratic Party, a position he has held since 1998.
Hampton is represented by attorneys Shelly B. Kulwin, Jeffrey R. Kulwin and Rachel A. Katz, of the firm of Kulwin Masciopinto & Kulwin LLP, of Chicago.
Representing the Democratic Party of Illinois are lawyers from Hinshaw & Culbertson LLP, of Chicago.