The Illinois Supreme Court has reduced the reach of the legal shield long enjoyed under Illinois state law by cities and other public bodies when faced with personal injury lawsuits, as the high court indicated the rationale advanced by lower court judges in rejecting a woman's lawsuit over the injuries she sustained tripping on a Danville sidewalk was overbroad.
In the decision, delivered Aug. 2, the state Supreme Court overruled decisions by circuit and appellate courts, which backed the city of Danville's tort immunity defense against the sidewalk fall suit, saying the city doesn't qualify for immunity, because it didn't show its decision to not repair the walkway was an act of discretion.
The decision was penned by Justice Anne Burke, with concurrence from Justices Rita Garman and P. Scott Neville Jr., as well as Chief Justice Lloyd Karmeier, with special concurrence from Justices Robert Thomas, Mary Jane Theis and Thomas Kilbride.
The ruling favored Barbara Monson in her suit against the city of Danville, in southeastern Illinois.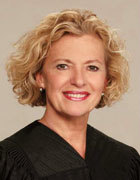 Illinois Supreme Court Justice Anne Burke Illinoiscourts.gov
Monson said she was walking on a sidewalk in Danville in December 2012, when she tripped on an uneven seam in the concrete, fell and suffered injuries to her face, mouth, shoulder, arm and foot. About one inch of water was standing in the area where she fell, from rain earlier in the day.
She sued the city in December 2013 in Vermilion County Circuit Court. Monson said the discrepancy between the two slabs of concrete, where she fell, was two inches; the city said it was less than two inches.
Danville cited tort immunity as a defense, saying it was protected by state law from liability, because the public works director used discretion in deciding which stretches of sidewalk needed repair or replacement. Specifically, the spot where Monson fell was a stretch the director did not prioritize for replacement, because of time or budget considerations, according to court papers.
The city argued the director has to be able to exercise discretion, yet be free of liability, to perform his job.
The circuit court accepted this argument, granted the city's motion for summary judgment and tossed the case. Monson appealed to the Illinois Fourth District Appellate Court and lost again in a 3-0 decision in June 2017. However, she then took her case to the state Supreme Court, which granted a hearing. And at last she found support for her position.
"The City has not presented any evidence documenting the decision not to repair the particular section of sidewalk at issue in this case," Justice Burke wrote. "There are no facts regarding the City's assessment of the actual site.
"More importantly, we do not know whether anyone even took note of a sidewalk deviation at location, or whether it was simply overlooked. Under the City's rationale, nearly every failure to maintain public property could be described as an exercise of discretion," Burke said.
Burke noted the city's failure to present evidence it made a "conscious decision not to perform the repair" is "fatal" to its claim for immunity.
Justice Thomas pointed out there is only a narrow range of immunities a city can claim.
The legislature intended application of a limited number of immunities for a public entity's failure to repair its unsafe property. Otherwise a municipal official could simply inspect and list everything that is defective and dangerous and institute a 'policy decision' not to repair it," Thomas observed.
The high court sent the case back to circuit court for further proceedings.
Monson has been represented by Spiros Law, of Danville.
Danville has been defended by Best, Vanderlaan & Harrington, of Chicago.