Elk Grove-based Greek food maker Grecian Delight has filed suit against its insurance company, claiming an insurer is crippling the company by refusing to pay out millions in claims after an explosion crippled the company's food processing facility.
The explosion on July 7, 2017, rocked Grecian Delight's Elk Grove Village plant, where the company makes packaged Greek and Mediterranean foods, including gyros and falafel.
According to the lawsuit, filed Aug. 15 in Cook County Circuit Court, the explosion was the result of an ammonia leak from the facility's refrigeration system. Ammonia filled the mechanical room for about 15 minutes before it was detected. Employees were evacuated from the building just before the mechanical room exploded, damaging walls as far as 120 feet away. No one was harmed.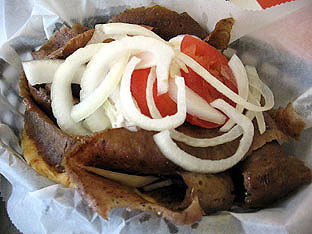 | greasefreak.com
In addition to structural damage, the explosion forced Grecian Delight to throw away all of the food being stored or processed in refrigerated rooms or freezers, as temperatures climbed to unsafe levels. According to the lawsuit, Grecian Delight decided on its own to destroy the compromised food; it notified the US Department of Agriculture, which agreed with the decision.
According to the suit, Grecian Delight notified its insurance company, Great American Insurance Company of New York, the day of the explosion. Company representatives responded and were given a tour of the damaged facility. Grecian says it also let the insurance company know it was seeking contractors to help it find temporary solutions that would allow it to resume at least partial production. The facility began running at partial capacity about 10 days after the explosion using rented refrigeration equipment; it took about seven months for the ammonia system to be fully replaced, according to the complaint.
Grecian Delight estimates it has lost about $26 million to date, a number that keeps climbing as unpaid bills from vendors who assisted in the recovery become overdue. Grecian claims that is because Great American has dragged its feet in paying claims covered under Grecian's policy, underpaying some bills and refusing outright to pay others.
At the time of the filing, Grecian said Great American has left nearly $12.7 million in qualified claims outstanding.
Grecian's insurance coverage with Great American includes more than $34 million in building coverage, more than $33 million in property coverage and more than $33 million in business income coverage, according to the lawsuit. The manufacturer claims it has submitted detailed documentation of losses and expenses that qualify for coverage under the policy, but Great American has paid less than half of the claimed losses.
The lawsuit claims an executive general adjuster with the insurance company, "set the tone for Great American's handling of this case" five days after the explosion, when he "made an extensive information request" and objected to Grecian's hiring of a business income consultant, saying the consultant "would be kept 'on a short leash.'" According to the lawsuit, though Grecian's insurance policy includes coverage for loss data preparation, the insurer wanted to determine the company's income loss completely on its own with no input from an outside consultant.
Grecian alleges Great American and two of its representatives threw up a multitude of obstacles to avoid paying the claims – accusing the company of withholding information, ignoring vendor invoices, demanding a vendor contract be renegotiated after services were already under way and making other demands and refusals Grecian says have hampered its ability to recover and resume normal operations.
The lawsuit names Great American Insurance Company of New York, GM Consultant – USA LLC, Moore and Pawlak as defendants.
Grecian is asking the court for declaratory judgment forcing Great American to pay on Grecian's partial proofs of loss. It also claims breach of contract and bad faith against the insurance company.
Grecian claims tortious interference against all four defendants regarding a contract with a vendor who provided temporary refrigeration solutions and whom Great American refused to pay. Alternatively, the plaintiff claims tortious interference against GMC, Moore and Pawlak regarding the insurance policy itself, claiming their refusal to abide by the terms of the policy caused Great American to breach its contract.
Grecian has requested a jury trial. The company is represented by John Vishneski III, Jessica E. Brown and Adrienne Kitchen of Reed Smith LLP.