A federal judge has put a hold on any further proceedings in the massive, years-long nationwide legal action against Abbvie and other makers of so-called testosterone replacement therapy drugs, saying he wants to give both sides time to complete a potential settlement drug to permanently end the litigation.
On Sept. 10, U.S. District Judge Matthew F. Kennelly filed an order in Chicago federal court, directing a stay on "all proceedings involving" Abbvie and the other drugmakers.
According to the order, attorneys both the drugmakers and the plaintiffs had informed the judge they had "entered into a confidential term sheet regarding a potential global settlement," which would include all of the legal complaints filed against Abbvie and fellow defendants Solvay Pharmaceuticals and Unimed Pharmaceuticals, which are now pending in Chicago federal court.
Judge Kennelly said the parties were directed to "report on a regular basis … regarding their progress" to a special master appointed by the court to handle the cases.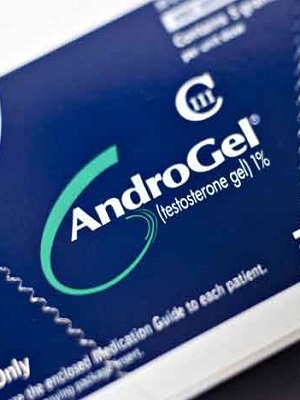 The stay also placed on the shelf any deadlines pending in any of the actions still pending in the courts.
If the talks ultimately result in a settlement, it could wind to a close a sprawling mass of litigation that has streamed into federal and state courts across the country since 2014, when the first lawsuits landed accusing Abbvie and other drugmakers of downplaying the risk of heart attacks and other cardiovascular conditions allegedly associated with the use of Androgel and similar testosterone replacement therapy drugs.
The lawsuits alleged Abbvie and other companies advertised the drugs as effective in treating a range of conditions, including diabetes, AIDS, cancer, depression, anxiety and a condition called "andropause" or "low T." The lawsuits alleged the drugmakers invented andropause and low T to boost sales of their drugs.
Other companies named as defendants in the actions included Eli Lilly & Co., Endo International, Pfizer and Besins, among others.
A federal judicial panel ordered the thousands of cases from throughout the U.S. consolidated before Judge Kennelly in Chicago as a so-called multi-district litigation, or MDL.
To begin to grapple with the mass of cases, and to gauge how juries might respond to the claims, the judge selected a group of cases to move forward to what were called "bellwether" trials. The outcomes of those trials could help determine if and how the companies may ultimately settle the more than 25,000 cases pending in the MDL.
In the first five such bellwether trials, Abbvie scored wins in three, including most recently this June, when a jury rejected a plaintiff's claims concerning Abbvie's marketing and labeling of Androgel, finding the labels' content is controlled by the U.S. Food and Drug Administration. The jury also found the plaintiff could not demonstrate Androgel caused his cardiovascular conditions.
In bellwether trials in January and May, juries similarly found in favor of Abbvie on all counts.
In the first two bellwethers, juries found Abbvie not liable for the plaintiffs' heart attacks and other conditions, but still awarded judgments worth more than $150 million and $140 million, respectively, to the plaintiffs, as jurors said they agreed Abbvie had misled doctors and consumers about Androgel. However, Abbvie challenged those verdicts, new trials in each case.
In the new trial in the lawsuit from plaintiff Jesse Mitchell, which had resulted in a $150 million verdict, the new jury awarded $3.2 million. However, Abbvie also challenged that verdict, and their request to either vacate the judgment or again order a new trial had been pending before Judge Kennelly prior to the stay.
According to published reports, a number of the other drugmakers, including Endo, Eli Lilly, GlaxoSmithKline and Auxilium Pharmaceuticals have already agreed to settlements to end the litigation against them.
And according to court documents, in August, Kennelly entered final judgment in favor of Besins in all of the claims brought against it in the MDL.
The plaintiffs in the testosterone replacement drug bellwether trials are represented by a number of attorneys from multiple firms, including Seeger Weiss LLP, of New York; Simmons Hanley Conroy, of Alton; Meyers & Flowers, of St. Charles; Heard Robins Cloud, of Santa Monica, Calif.; Beasley, Allen, Crow, Methvin, Portis & Miles, of Montgomery, Ala.; and Levin, Papantonio, Thomas, Mitchell, Rafferty & Proctor, of Pensacola, Fla.
Abbvie has been represented in the matter by attorneys of the firms of Dechert LLP, of Chicago, Philadelphia and New Jersey; Paul Weiss Rifkind Wharton & Garrison, of New York; and Goldman Ismail Tomaselli Brennan & Baum LLP, of Chicago.