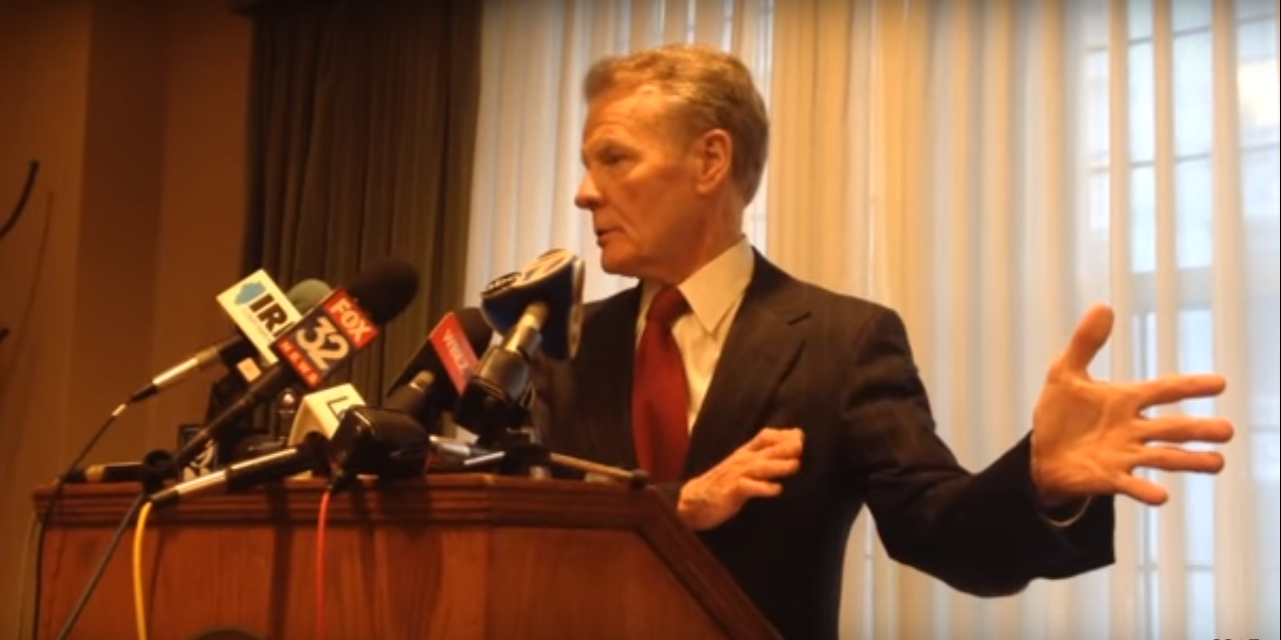 Ill. Democratic Party Chairman and House Speaker Michael J. Madigan
The Illinois Democratic Party will not be allowed to easily sidestep a lawsuit brought by a woman who claimed Illinois Democrats, led by House Speaker Michael J. Madigan, blackballed her in retaliation for complaining of sexual harassment at the hands of a Madigan operative and brother of a powerful Chicago alderman.
On Oct. 30, U.S. District Judge Sara L. Ellis denied the state Democrats' attempt to dismiss the action brought by plaintiff Alaina Hampton.
Ellis said she found lacking the state Democratic Party's attempt to argue it could not be considered Hampton's employer, noting Hampton worked on Democratic political campaigns under the watch and thumb of Speaker Madigan, and Madigan was involved in the decisions concerning her continued employment with his political organizations. Essentially, the judge determined the campaign organizations under Madigan's sway are close enough to the Illinois Democratic Party to allow Hampton's lawsuit to continue against all the political organizations Madigan controls, including the state party.
"As the Chairman of all four Defendants, Madigan controls their bank accounts, has the ability to transfer money between the accounts, and controls the employment decisions for each Defendant," Ellis wrote in her six-page decision. "Madigan took an active role in assigning Hampton to various positions working for the Defendants and he made these decisions in his capacity as Chairman of DPI (Democratic Party of Illinois)."
Hampton filed suit in March in Chicago federal court against the Illinois Democrats and Madigan's various organizations, accusing Madigan and his agents and operatives of doing too little to address the harassment she said she suffered from Kevin Quinn, brother of Chicago Ald. Marty Quinn, over the course of nearly a year, while she worked in Madigan's organization under Kevin Quinn.
According to the lawsuit, Hampton began working within Madigan's various political organizations immediately after graduating college in mid-2012. Through March 2016, the lawsuit noted she had "worked on, managed and ran" for various Madigan allies, including state representatives Sue Scherer, Kathleen Willis and, most recently, Juliana Stratton.
Stratton is on the ballot to serve as lieutenant governor, should Democratic nominee billionaire J.B. Pritzker win election as Illinois' next governor. Polls indicate Pritzker has a wide lead over Republican incumbent Gov. Bruce Rauner.
According to the lawsuit, Hampton's work on Stratton's behalf helped land her a post in Madigan's organization, under the so-called "Chicago Heights Economic Development Corporation."
From July 2016-April 2017, Hampton worked on various campaigns, assigned by Kevin Quinn, her supervisor, who was "widely known as a high-ranking political operative" for Madigan and within the Speaker's organizations. According to the lawsuit, Kevin Quinn worked out of "Alderman Quinn's and Speaker Madigan's 13th Ward Office."
However, beginning in August 2016, Hampton alleges Kevin Quinn began to repeatedly and regularly subject her to "severe and pervasive sexual harassment by pursuing Ms. Hampton to have a romantic and sexual relationship with him."
The lawsuit said the harassment continued until February 2017, when Hampton complained to Ald. Marty Quinn, reading through harassing messages Kevin Quinn had sent her.
However, the complaint asserts she continued to be assigned to work under Kevin Quinn, until she "was constructively discharged and forced to stop working for the Madigan defendants because she could no longer suffer the crippling fear and anxiety she experienced having to work with Kevin Quinn."
The complaint said Hampton ultimately wrote a letter to Speaker Madigan about her experiences. The letter triggered a meeting with a Madigan lawyer, who, Hampton said, "minimized Kevin Quinn's sexual harassment, told Ms. Hampton that she was not sexually harassed or subjected to a sexually hostile work environment because she was not an 'employee,' and flippantly accused Ms. Hampton of wanting to get a 'front page newspaper story and money."
Following the meeting, Hampton said her attempts to land jobs elsewhere in Illinois Democratic politics were met with silence, allegedly in retaliation for her attempts to secure corrective action for the harassment she suffered, the lawsuit said.
Kevin Quinn continued working for Madigan until Hampton took her story public. Quinn was fired the next day, the lawsuit said.
Hampton said she believes Madigan's organizations "have ignored and/or disregarded other reports of sexual harassment of female employees and volunteers working for the Madigan defendants."
In response to the lawsuit, the Illinois Democratic Party asked the judge to dismiss the complaint against the party, saying it did not serve as Hampton's employer.
Judge Ellis, however, saw the situation differently, saying Madigan's presence at the top of the party and the political organizations that employed Hampton could make them a "joint employer" of Hampton for the purposes of the lawsuit.
Hampton is represented in the action by attorneys Shelly B. Kulwin, Jeffrey R. Kulwin and Rachel A. Katz, of the firm of Kulwin Masciopinto & Kulwin LLP, of Chicago.
Madigan's organizations and the Democratic Party are represented by attorneys James M. Lydon, Aimee E. Delaney, Sunghee W. Sohn and Leigh C. Bonsall, of the firm of Hinshaw & Culbertson LLP, of Chicago.