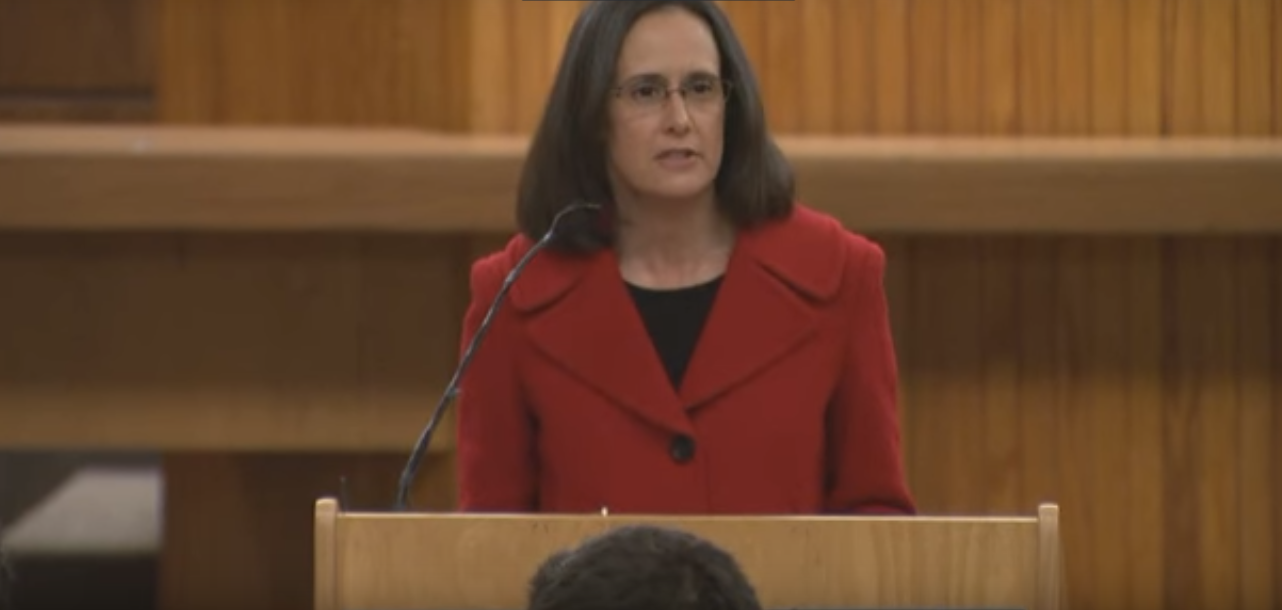 Illinois Attorney General Lisa Madigan | Youtube screenshot
In the waning days of October, state and county prosecutors filed a lawsuit asking a DuPage County judge to order the closure of an industrial facility in suburban Willowbrook.
In the action, Illinois Attorney General Lisa Madigan and DuPage County State's Attorney Robert Berlin accused Sterigenics, a company specializing in sterilizing medical tools and devices, of polluting the air and jeopardizing the health of people living around it.
However, the complaint may also be notable for the legal theory that underpinned the prosecutors' plan of attack, said a Chicago attorney whose practice centers on environmental law.

Matthew Cohn | Greensfelder
"It's a very odd case," said Matthew Cohn, of the Greensfelder firm. According to his online biography, he pairs "his legal experience with a professional background in environmental science," advising and representing businesses accused in official government regulatory actions or in private lawsuits of violations of environmental rules or creating so-called "toxic torts."
"I'm not aware of another case like this," said Cohn. "This is the kind of case I could see a private plaintiff bringing.
"But for the state to do it? It strikes me as invalidating the state's own permitting process."
In the lawsuit, filed on Oct. 30 in DuPage County Circuit Court, Madigan's and Berlin's offices together accuse Sterigenics of creating a public health hazard by emitting thousands of pounds per year of a gas known as ethylene oxide (EO).
Sterigenics says the EO gas is essential to its methods of sterilizing surgical instruments, such as hypodermic needles and other medical tools, as alternative sterilization methods using heat and radiation can weaken the materials and compromise their effectiveness, putting patients at a greater risk of injury and infection.
Sterigenics says more than half of all medical devices and 90 percent of surgical kits used in operating rooms in the U.S. are sterilized using EO.
"Without ethylene oxide for sterilization, infection risks would soar dramatically in hospitals and operating rooms," Sterigenics said in a brief filed in federal court in response to a different lawsuit. "For heat- and irradiation-sensitive devices, no currently available sterilization method exists that has been accepted and approved as a practical replacement for ethylene oxide."
The Willowbrook facility now operated under the Sterigenics name has performed its medical device sterilization procedures since the 1980s under a permit obtained from the Illinois Environmental Protection Agency. That permit, issued by the state under federal and state environmental laws and accompanying rules and standards, has allowed Sterigenics to emit up to 36,400 pounds of EO gas per year.
The permit was most recently reissued in 2015, the IEPA said.
Nonetheless, the IEPA referred the matter of Sterigenics' EO emissions to the state and county prosecutors for enforcement through litigation, an IEPA spokesperson said.
The IEPA did not respond to further questions from The Cook County Record.
The lawsuit does not accuse Sterigenics of violating its permit.
According to the lawsuit, from 1993-2017, Sterigenics emitted, on average, about 10,000 pounds of EO gas per year, with a median release of 6,440 pounds per year – or about 18 percent of what the state of Illinois had given it permission to emit.
Since 2001, emissions have been even lower, with an average over that span of 4,800 pounds, about 13 percent of what the state had permitted.
However, the lawsuit said the company still should be punished for emitting EO gas at all, a situation the lawsuit called a "public nuisance" and "public health hazard."
The lawsuit based its assertions largely on a report from the federal Agency for Toxic Substances and Disease Registry, which purported to show a sharply elevated cancer risk for people in and around Willowbrook. The ATSDR report, issued in August, relied on air quality data and modeling conducted by the EPA in May.
The report's release generated public and political outcry, as a vocal group of Willowbrook residents demanded a government response, trial lawyers filed dozens of lawsuits and a number of politicians began to call for tighter regulations. A number of Democratic politicians, for instance, used the Sterigenics report as an issue in the 2018 elections. Gov. Bruce Rauner, who oversees the Illinois EPA, was particularly targeted.
However, the reliability of the air quality data underlying the ATSDR report has come under question. Just before Thanksgiving, the U.S. EPA announced the data it supplied the ATSDR was flawed, as it counted a different chemical as EO, elevating the EO count reported to the ATSDR.
The U.S. EPA began another round of testing in November, and reported initial results in early December. EO was again detected in the air very close to the Sterigenics plant. However, air quality readings at nearby neighborhoods, parks and schools did not detect any significant amounts of EO.
The lawsuit has not been amended to account for any of November's new findings.
Rather, the lawsuit accuses Sterigenics of allowing or causing air pollution and of causing a "public nuisance."
Cohn said the state's legal strategy in this case has caught the attention of industrial companies throughout the state and elsewhere.
Typically, in regulatory litigation, Cohn said companies will rely on what is known as the "permit shield." Essentially, he said, companies accused of environmental misdeeds will point to the permit issued by a regulatory body, and may argue their conduct fell within the bounds established by the permit.
In this case, however, Sterigenics is not being allowed to fall back on its "permit shield," Cohn said. Rather, he said, the permit itself is used to establish evidence the company emitted EO in the first place.
He noted the lawsuit includes such language as: "Thus, the Operating Permit allows the 'public health hazard' as found by the ATSDR in its report to continue unabated."
"They're taking the very permit they gave, and saying 'See? You're violating the law,'" said Cohn. "It's bizarre for a state agency to encourage a lawsuit against its own permittee."
When news of the outcry over the ATSDR report first spread, before the lawsuit was filed, Cohn said he suspected the IEPA would respond by seeking to reopen the permit and work with Sterigenics to reset the standard to a lower, more stringent level. He said he believes that ultimate outcome is still likely.
But for now, he said the legal theory underpinning the state's lawsuit has given pause to many in business and industry, wondering if their own permits could also be used as the basis of a similar lawsuit against them.
"I think people who have air permits of their own are paying attention, and they're wondering how valuable their permits really are," said Cohn. "They're asking: 'If Sterigenics can get enforced against like this, how safe am I from the same kind of case?'"
The Cook County Record posed that question to the IEPA and the Illinois Attorney General's office. The IEPA did not respond to that question.
A spokesperson for Lisa Madigan said the Attorney General's office "will not have comment on these issues."
A spokesman for the DuPage County State's Attorney did not reply to a message left Monday seeking comment, presenting a question related to the "permit shield."
Sterigenics also did not respond Monday to questions submitted by email.
However, following the filing of the state's lawsuit, Sterigenics released a statement, saying: "The lawsuit filed today expressly recognizes that Sterigenics has operated, and continues to operate, well within the limits of its permit and the regulations. Any action brought against a business operating well within regulatory limits sets an extremely bad precedent."