The Illinois Supreme Court has reversed Cook County and appellate court rulings in a lawsuit over allegedly defective condominium buildings in Evanston, saying condo unit owners cannot sue subcontractors who built the condos, because there were no contracts between the two groups.
Justice Anne Burke delivered the Dec. 28 ruling, with concurrence from Chief Justice Lloyd Karmeier and Justices Rita Garman, Mary Jane Theis, Robert Thomas and P. Scott Neville Jr. Justice Thomas Kilbride dissented, contending "innocent purchasers" need to be able to sue not only general contractors, but also subcontractors.
Sienna Court Condominium Association filed suit in February 2013 in Cook County Circuit Court, on behalf of unit owners, against TR Sienna Partners, who were the developers of a two-building, 111-unit property in Evanston. The association also sued, among others, Don Stoltzner Mason Contractor Inc., Clearvisions Inc., Lichtenwald-Johnston Iron Works and Metalmaster Roofmaster Inc., which were subcontracted to construct the condominiums.
The association alleged defendants were to blame for defects in the buildings, which let in water, rendering the buildings unfit for habitation.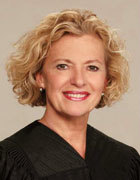 Illinois Supreme Court Justice Anne M. Burke Illinoiscourts.gov
TR Sienna and the general contractor both went bankrupt before the suit was filed, but left $2 million insurance coverage, which the association pursued. The association also collected $308,000 from an escrow fund TR Sienna had to set up per Evanston city ordinance.
The subcontractor defendants moved to have their cases dismissed on grounds they had no contractual relationship with condo unit owners. However, Cook County Circuit Judge Margaret Ann Brennan refused. Defendants then visited Illinois First District Appellate Court, but lost again.
The case was then appealed to the Illinois Supreme Court, where the issue boiled down to whether the buyer of a new home can claim breach of an implied warranty of habitability against a subcontractor, who helped build the home, but had no contractual relationship with the buyer.
Justice Burke said the answer is no.
"The implied warranty of habitability must be a creature of contract, not tort. Subcontractors depend upon contract law and their contracts with the general contractor to protect and define their risks and economic expectations. The subcontractors' fees and costs are set in relation to their liability exposure, which is controlled in turn by their contracts," Burke wrote.
"To allow what is, in effect, a tort claim to be brought directly against subcontractors by homeowners would undermine and, in some instances, render pointless these contractual obligations and restraints," Burke observed.
The majority of the court, led by Burke, reversed the lower courts' rulings, ordering dismissal of the implied warranty claims against the subcontractors.
Justice Kilbride disagreed, saying the state high court, in prior decisions, has recognized the right to sue subcontractors.
"It is beyond question that the implied warranty of habitability was first recognized and later extended by this court based on the public policy of protecting innocent purchasers," Kilbride said.
"The specific purpose of the warranty is to protect purchasers' legitimate expectations by holding builder-vendors accountable. We have extended the warranty to accomplish that purpose despite the lack of privity of contract between the parties," Kilbride said.
Kilbride went on to say, because buyers reasonably expect subcontractors will be competent, subcontractors should expect to be held responsible for construction flaws.
Sienna Court Condominium Association has been represented by the Chicago firm of Arnstein & Lehr.
Don Stoltzner Mason Contractor has been defended by Hinshaw & Culbertson, of Chicago.
Clearvisions has been defended by the Chicago firm of Perl & Goodsnyder.
Lichtenwald-Johnston Iron Works has been defended by Cremer, Spina, Shaughnessy, Jansen & Siegert, of Chicago.
Metalmaster Roofmaster has been defended by the Chicago firm of Franco & Moroney.