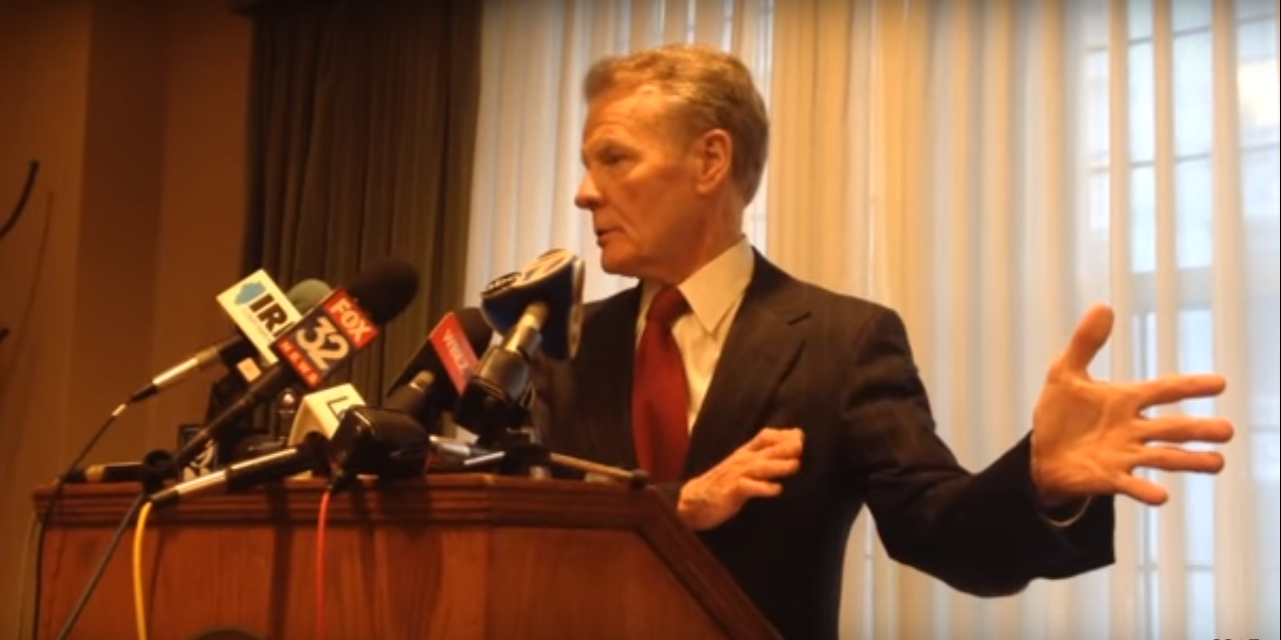 Illinois House Speaker Michael J. Madigan | Youtube screenshot
Editor's note: This article has been revised to include an additional statement from a spokesperson for the plaintiff clarifying her allegations concerning her treatment by the campaigns for two Chicago aldermen and a third aldermanic candidate.
The woman who has claimed Democrats in Illinois and Chicago, led by House Speaker Michael J. Madigan, blackballed her in retaliation for complaining of sexual harassment at the hands of a Madigan operative, has provided further details to her claims, naming names of prominent Chicago Democrats who declined to hire her out of fear of further retribution from Madigan's team.
On March 1, Alaina Hampton filed a brief in Chicago federal court, responding to specific written questions – or "interrogatories" – posed to her by the lawyers representing Madigan and the Illinois Democratic Party.
In those answers, Hampton notes she was passed over repeatedly for jobs she believes she was otherwise "undeniably qualified for" after she brought the sexual harassment accusations to the attention of the Speaker himself, and said she intended to make the accusations public.
Hampton said the list of those who declined to hire her includes officials with the Chicago Teachers Union; progressive political activist and former prospective state representative candidate Kristen Crowell; progressive political action group UltraViolet; the Illinois Democratic Party; and Chicago aldermen Deb Mell, John Arena and Scott Waguespack, as well as aldermanic candidate Erika Wozniak.
In an emailed statement, a spokesperson for Hampton clarified, saying: "None of Ms. Hampton's interaction with (the campaigns of Arena, Waguespack or Wozniak) were affected or influenced in any way by the allegations in her suit or the defendants in that case."
In at least one instance, Hampton said she was specifically told the politicians or organizations had been instructed not to work with her. And in others, she alleged she was told hiring officials were concerned about her lawsuit or were worried Madigan and his organizations and operatives "would retaliate" if they hired Hampton.
Hampton filed suit nearly a year ago in Chicago federal court against Madigan, his political organizations and the Illinois Democratic Party. In that suit, Hampton accuses Madigan and his agents of doing too little to address harassment she said she suffered from Kevin Quinn, brother of Chicago Alderman Marty Quinn, also a prominent figure in Madigan's political organization.
According to the lawsuit, Hampton began working with Madigan's various political organizations immediately after graduating college in mid-2012. Through March 2016, the lawsuit said she had "worked on, managed and ran" operations for various Madigan allies, including new Illinois Lt. Gov. Juliana Stratton.
According to the lawsuit, Hampton's work on Stratton's behalf during a campaign for state representative helped her land a post in Madigan's organization, under the so-called "Chicago Heights Economic Development Corporation." According to her latest court filing, she was paid $51,000 a year in that role.
From July 2016-April 2017, Hampton worked on various campaigns, assigned by Kevin Quinn, her supervisor. She said it was commonly known that Kevin Quinn was "a high-ranking political operative" for Madigan, working out of the 13th Ward Office occupied by both Marty Quinn and Speaker Madigan.
Hampton claims, beginning in August 2016, Kevin Quinn began to repeatedly and regularly subject her to "severe and pervasive sexual harassment by pursuing (her) to have a romantic and sexual relationship with her."
Hampton said she rebuffed Quinn's alleged advances, until February 2017, when she complained to Marty Quinn.
She was ultimately "constructively discharged and forced to stop working for" Madigan's organizations "because she could no longer suffer the crippling fear and anxiety she experienced having to work with Kevin Quinn."
Hampton later wrote a letter to Madigan, personally relating her experiences. This then triggered a meeting with Madigan representative Heather Weir Vaught. Hampton asserts Vaught downplayed the harassment, and told Hampton "she was not sexually harassed or subjected to a sexually hostile work environment because she was not an 'employee,' and flippantly accused Ms. Hampton of wanting to get a 'front page newspaper story and money."
Hampton ultimately filed suit. The day after the lawsuit was filed and her story was reported in the press, Madigan's operations announced Kevin Quinn had been terminated.
However, in the time since her meeting with Vaught, including in the months leading up to the filing of her lawsuit, Hampton said she was repeatedly rejected for jobs to which she applied.
She noted, just before she was passed over for a job with the Chicago Teachers Union in September 2017, a lobbyist working with CTU, identified as D'Javan Conway, specifically asked her if she was "on the outs" with Marty Quinn, because "someone had informed" CTU's political director, Stacy Davis Gates, that "such was the case."
On another occasion in April 2018, Hampton said a Democratic operative told her Kristen Crowell, who had considered a run for state representative in the fall of 2017, "had been told not to work" with Hampton.
And in applying for a position to serve as Alderman Mell's campaign manager in August 2018 Hampton said Mell "expressed concern about working with" Hampton, because "she was worried that the Defendants would retaliate against her."
Hampton said these occurrences bolster her claims Madigan and his organization retaliated against her for complaining about Kevin Quinn's alleged harassment.
Elsewhere in her brief, Hampton also indicates she has since learned two other women who worked for Madigan also had been sexually harassed by a male co-worker.
Both women allegedly reported the harassment to Vaught, "but nothing was done in response." Just as happened after she complained about Kevin Quinn's alleged behavior, Hampton said the other alleged harasser "remained on the Speaker's staff for an additional two years."
Hampton is represented in the action by attorneys Shelly B. Kulwin, Jeffrey R. Kulwin and Rachel A. Katz, of the firm of Kulwin Masciopinto & Kulwin LLP, of Chicago.
Madigan's organizations and the Democratic Party are represented by attorneys James M. Lydon, Aimee E. Delaney, Sunghee W. Sohn and Leigh C. Bonsall, of the firm of Hinshaw & Culbertson LLP, of Chicago.