The widow of a man who died when he allegedly accidentally hanged himself when an apparent act of autoerotic asphyxiation went wrong, should not be able to collect an additional $60,000 in insurance coverage from his death, a federal appeals panel has ruled.
On April 29, in a 2-1 decision, a three-judge panel of the U.S. Seventh Circuit Court of Appeals ruled it should not matter if the man, identified as Linno Llenos, intended to survive the incident. Hanging oneself by the neck, whether for pleasure or otherwise, should qualify as a "self-inflicted injury," and should allow an insurance company to deny additional coverage that would otherwise be excluded by death or injury under such circumstances.
"… We find that an ordinary person would consider choking oneself by hanging from a noose to be an injury, even if that strangulation is only 'partial,'" the judges wrote in the majority opinion. "For example, if Llenos had partially strangled another person, there would be no debate he had inflicted an injury…
"That Llenos performed the act on himself and enjoyed the accompanying euphoria does not make partial strangulation less of an injury."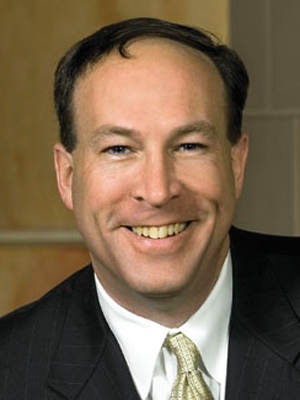 Circuit Judge Michael B. Brennan
The majority opinion was authored by Seventh Circuit Judge Michael Brennan. Circuit Judge Daniel A. Manion concurred.
Circuit Judge William J. Bauer dissented, however, asserting the majority got the question wrong, in lending no weight to the evidence Llenos did not intend to hurt himself, much less kill himself.
"Here, there is evidence that Llenos intended to weather the masturbatory episode unscathed…," Bauer wrote in the dissent. "The record, limited thought it may be, indicated Llenos had a history of engaging in autoerotic asphyxiation and doing so without injury, leading one to the belief that the act, as it was intended to be performed, was not injurious."
Bauer added later in the dissent: "The majority's position incorrectly separates the masturbation from the asphyxiation and as a result creates a rule where it will always be excluded from coverage under an accidental death & dismemberment policy that includes an intentional injury exclusion.
"Llenos' conduct was undoubtedly risky but was not inherently injurious."
The case landed before the Seventh Circuit in the fall of 2018, after U.S. District Judge Robert M. Dow Jr. had ordered the Minnesota Life Insurance Company to pay Llenos' widow LeTran Tran $60,000 under an accidental death policy held by Llenos at the time of his death. The appellate decision noted that sum would have been paid in addition to $517,000 in life insurance benefits Minnesota Life had already paid Tran.
Minnesota Life had contested the additional $60,000 payout, citing language in the policy that states no payment shall be made if the insured's death is caused by "self-inflicted injuries."
The insurance company asserted Llenos' death was caused by his own decision to put a noose around his neck and asphyxiate himself to attempt to heighten his masturbatory experience.
The court documents noted the medical examiner had determined the death to not be suicide. The court documents noted Llenos was found hanging from the noose, with a towel around his neck and footstool standing near his feet, with "rubber rings" around his genitals.
Judge Dow had acknowledged case law is divided on the larger question of whether temporarily choking oneself, with safety mechanisms in place and without any intent of losing consciousness, should be considered a self-inflicted injury for insurance recovery purposes.
In his decision, Dow likened the intent to that of swimmers who might hold their breath too long and black out under water.
Dow said Minnesota Life could not "logically argue" both that Llenos intended to harm himself, while conceding Llenos did not intend to kill himself.
The insurer appealed that decision, however, and found a more receptive audience.
In the majority opinion, Brennan said Dow relied on faulty case law to create a faulty distinction, separating Llenos' decision to strangle himself from the ultimate result.
Rather, Brennan said, Llenos' hanging death should be treated as one continuous act, which began when he placed the noose around his own neck.
Judge Bauer in dissent, however, sided with Dow, saying it was the majority that failed to create a distinction between the intent to self-harm and the result, and instead created a distinction between "the act of masturbation and … the act of self-strangulation" essential to the practice.
"If it were objectively reasonable to conclude that an injury, as commonly understood, was the likely result of autoerotic asphyxiation there would be few if any repeat practitioners," Bauer wrote. "Moreover, autoerotic asphyxiation has permeated popular culture and has become a commonplace punchline."
Bauer compared the act to other popular risk-laden pursuits, such as skydiving, rock-climbing or motorcycle racing. If insurers don't want to pay out on claims for death or injury caused by autoerotic asphyxiation, they should include that activity among those, like skydiving, which are commonly explicitly excluded from coverage.
Judge Brennan in the majority opinion, however, said the popular perception of the act as acceptably risky should have no bearing on Tran's claim. The majority also discounted Bauer's assertion even a high risk of injury from autoerotic asphyxiation would reduce the number of people who practice it.
"Some people enjoy harming themselves," Brennan wrote. "That harm is still an injury, regardless of its popularity or the pleasure some people may derive from it."
Ultimately, Brennan said, Llenos died because he chose to strangle himself.
"… Absent the strangulation injury, Llenos never would have experience hypoxia (and euphoria), lost consciousness and died," Brennan wrote. "Autoerotic asphyxiation was the ultimate and the proximate cause of Llenos's death. According to the language of the exclusion in the (Accidental Death & Dismemberment policy) riders, then, the act of autoerotic asphyxiation was the 'injury' that killed Llenos."
Tran has been represented in the action by attorneys Jeffrey S. Deutschman and Bradley A. Skafish, of Deutschman & Associates P.C., of Chicago.
Minnesota Life has been represented by the firm of Smith Von Schleicher & Associates, of Chicago.