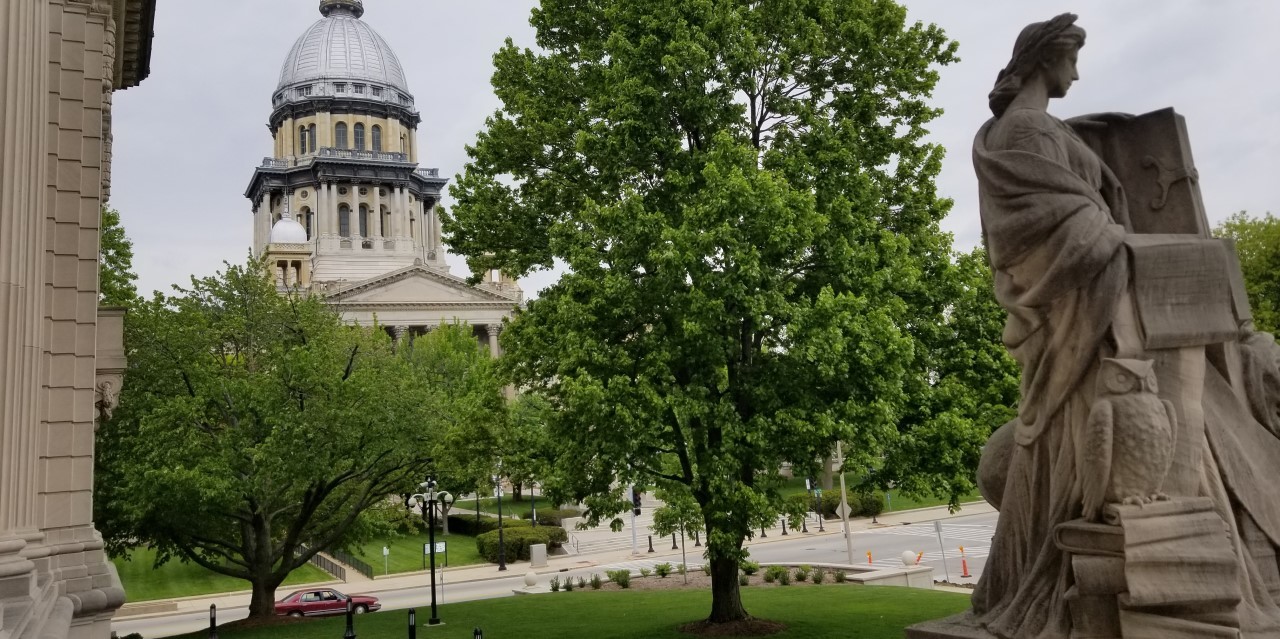 Illinois Capitol, seen from steps of Illinois Supreme Court, Springfield | Jonathan Bilyk
The Illinois Supreme Court has ruled a church in suburban Dundee and its pastor can be liable for a youth minister's sexual assault of a teenage church member, finding the girl and her parents made a plausible case the church and its pastor could have headed off the assault by acting on signs the minister was allegedly a pedophile.
The May 23 decision was penned by Justice Rita Garman, with concurrence from Justices Robert Thomas, Anne Burke, Thomas Kilbride, P. Scott Neville Jr. and Mary Jane Theis. Chief Justice Lloyd Karmeier did not take part.
The decision kept alive a 2015 suit filed in Kane County by a teenager and her parents against First Congregational Church of Dundee, Pastor Aaron James and former youth minister Chad Coe. The teenager is referred to in court papers as Jane Doe, with her parents Jane A. Doe and John Doe.

Illinois Supreme Court Justice Rita Garman | Illinoiscourts.gov
Jane Doe was a 15-year-old member of the church in 2013, when Coe, then 31, had sex with her in the church basement, according to court records. Coe was sent to prison in April 2018; he is set for parole in fall 2021, according to the Illinois Department of Corrections.
The suit alleged the church and pastor knew or should have known Coe had posted obscene photos of himself on websites, which a Google search would have revealed, and showed pornographic videos to church youth group members. Also, the suit alleged defendants should have been aware Coe "habitually" had church girls sit on his lap and inappropriately touched the girls.
The multi-count suit was dismissed in circuit court on grounds nothing indicated the church or pastor knew of such alleged misconduct prior to the assault on Jane Doe. On appeal, Illinois Second District Appellate Court reinstated counts that alleged negligent hiring and supervision of Coe, but affirmed dismissal of counts that alleged defendants negligently retained Coe in his post.
The church and pastor appealed to the state high court, with that panel agreeing with the appellate court's reinstatement of the negligent hiring and supervision counts, but overturning that court on the issue of negligent retention.
Justice Garman acknowledged the church claimed it would have been difficult to learn of Coe's internet history, but pointed out there are businesses that do detailed background checks for employers and particularly for youth activity sponsors.
Garman also found plaintiffs make a plausible argument the church and pastor allegedly failed to monitor Coe. Specifically, Coe was often allegedly allowed to be the only adult at youth meetings, during which he allegedly engaged in unlawful conduct.
In addition, plaintiffs alleged the pastor saw Coe alone with Jane Doe in an office at least three times, but the pastor took no action. The pastor also allegedly took no action after receiving reports from two adults, including an early childhood professional, that Coe behaved inappropriately with Jane Doe.
Garman reversed the appellate court on its decision the pastor was not Coe's employer and so, after learning Coe was not fit for his post, could not be liable for Coe's retention as minister. Garman said Coe reported to the pastor and, quoting plaintiffs, the pastor was "master and direct supervisor of Coe."
"We do not, at this stage, determine whether negligence has been proven but merely whether facts have been alleged that, if proven, could entitle plaintiffs to recovery," Garman said.
The supreme court also found the appeals panel was wrong to affirm dismissal of counts that alleged defendants were "willful and wanton" in regard to the negligent retention counts. The high court reinstated those counts.
Garman remanded the case to circuit court.
Kevin Lyons, of Lyons Law Group in Downers Grove, argued before the state high court on behalf of plaintiffs.
Michael Resis, of SmithAmundsen in St. Charles, argued for the church and pastor.