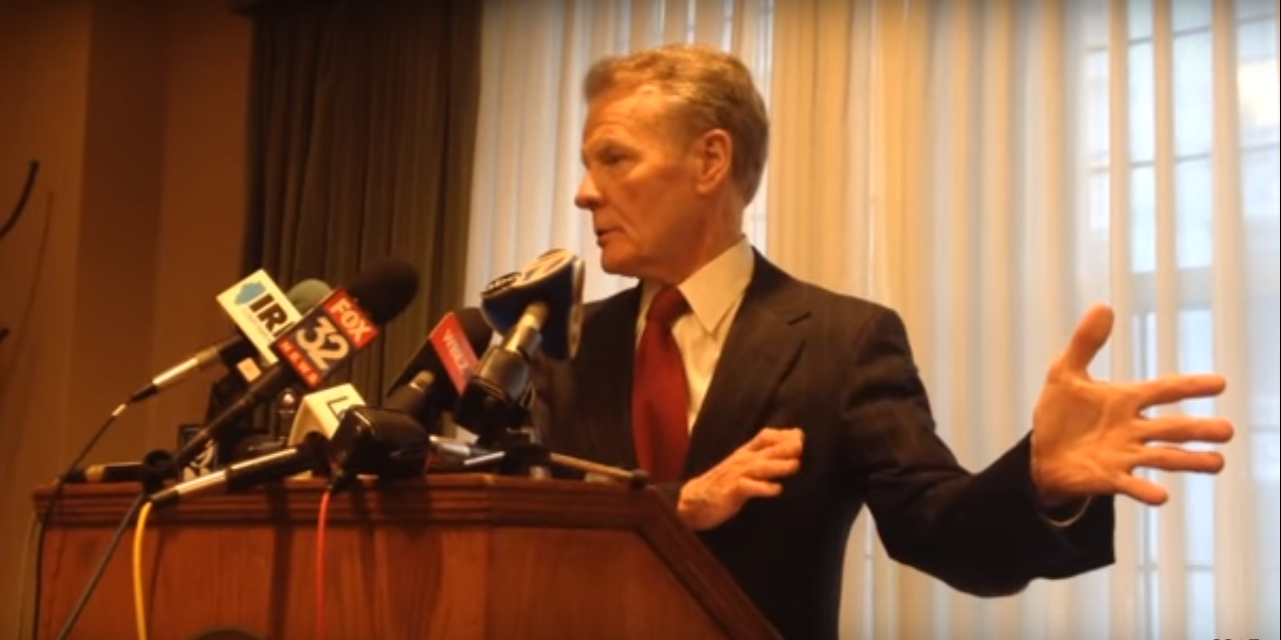 Illinois House Speaker Michael J. Madigan | Youtube screenshot
A woman claiming Illinois Democrats, led by House Speaker Michael J. Madigan, have denied her jobs after she complained a Madigan operative sexually harassed her, is trying to force a reluctant Chicago Teachers Union to turn over documents to aid her lawsuit.
In March 2018, Alaina Hampton filed suit in Chicago federal court against Madigan, his campaign organizations and the Illinois Democratic Party. Hampton alleged defendants inadequately addressed her complaints she was harassed by Democratic Party staffer Kevin Quinn, then retaliated against her for lodging the complaints.
As part of the retaliation, Hampton alleged the Chicago Teachers Union did not hire her to help with a political campaign, and the union is refusing to provide documents she claims may prove retaliation was at play.
While working on Democratic campaigns in 2016-17, Hampton's supervisor, Kevin Quinn, allegedly subjected her to "severe and pervasive sexual harassment" by seeking a "romantic relationship," according to Hampton.
Kevin Quinn is brother of Chicago Alderman Marty Quinn.
Hampton said she rebuffed him and eventually complained to Madigan, Marty Quinn and Madigan's attorney, Heather Weir Vaught, but they allegedly did little in response. As a consequence, she had to leave her campaign job, because of "crippling fear and anxiety she experienced having to work with Kevin Quinn."
The day after Hampton's suit was lodged and the press reported on it, Madigan's office announced Kevin Quinn had been let go.
Hampton alleged that in retaliation for her harassment allegations, Madigan and his fellow Democrats have blackballed her from political jobs, including an election season post with the teachers union.
Hampton said she and teachers union lobbyist D'Javan Conway exchanged text messages in which Conway indicated the union was "eager and ready" to have Hampton work with them on Johnae Strong's campaign for state representative of the Fifth Legislative District in the 2018 election. The union and United Working Families, a grassroots political group, endorsed Strong for the seat.
However, Hampton said Conway eventually told Hampton union officials had learned she was "on the outs" with Marty Quinn, the suit said. Hampton said the union then ended communications with her.
Hampton subpoenaed documents, including copies of texts, from Conway, union vice president Stacy Davis Gates and Emma Tai, who is executive director of United Working Families, to support her retaliation claim.
The union officials and Tai have balked, with their attorney, Josiah Groff, saying the subpoena requests would be burdensome to satisfy and seek irrelevant and private information. In particular, the requested information involves political strategy discussions that need to be kept under wraps, according to the suit.
Hampton said her attorney explained their relevance to Groff and said the information would remain confidential, but the union and Tai have allegedly been "obstructionist" and "disingenuous," trying to "draw out the process" with "meritless issues," Hampton said in a motion she filed with the court.
"Respondents and their attorney, Mr. Groff, have turned a narrow request for documents into a mammoth effort to stonewall and obstruct the discovery process, further raise Ms. Hampton's litigation costs, and preclude Ms. Hampton from learning the truth," one of Hampton's attorneys alleged.
As a result, Hampton stated she was forced to ask U.S. District Judge Sara Ellis to order the union officials and Tai to furnish the documents and pay Hampton's legal costs racked up in seeking the documents.
Besides the teachers union, Hampton claimed other politicians and organizations have been told not to work with her or expressed anxiety about working with her, because they feared Madigan forces would hit back if they hired her.
Hampton is represented by Shelly B. Kulwin, Jeffrey R. Kulwin and Rachel A. Katz, of Kulwin Masciopinto & Kulwin, of Chicago.
Madigan's organizations and the Democratic Party are represented by James M. Lydon, Aimee E. Delaney and Leigh C. Bonsall, of Hinshaw & Culbertson, of Chicago.